Sitcom 101 With Diedrich Bader
Actor discusses his guest spot on TV Land's 'The Exes,' multi-camera comedies and more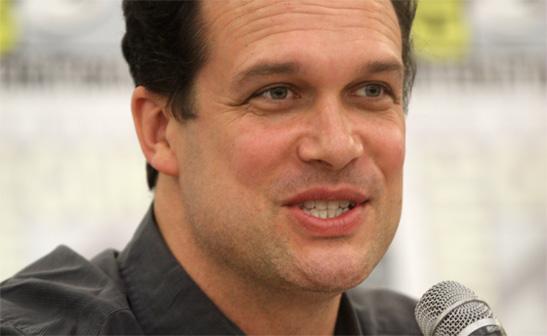 Diedrich Bader has studied sitcoms since he was a kid.
He'd watch everything from "The Mary Tyler Moore Show" to "What's Happening" and examine the way the actors delivered jokes, how they paused for laughs and how happy the whole process made studio audiences. Then he became hooked.
Bing: More on TV Land's 'The Exes'  | Diedrich Bader 
Bader's addiction to sitcom silliness led the Virginia-born actor to small stints on shows such as "The Fresh Prince of Bel-Air," plum roles on hits like "The Drew Carey Show" and not-so-plum parts on the NBC clunker "Outsourced" and every time he's been a joy to watch. This time around, he'll reprise his guest starring stint on TV Land's "The Exes" as Holly's (Kristen Johnston, "3rd Rock From the Sun") colleague and potential love interest.   
Plus: Life after 'Friends' | Memorable TV roommates
Bader, 45, sat down with MSN TV during a recent set visit to talk about his love of sitcoms and his latest guest appearance on "The Exes," which airs Wednesday nights. Paula Jai Parker ("Friday" and "Hustle & Flow") will also guest star on this week's installment of the divorce and relationship comedy.
MSN TV: What made you want to come back as a guest star on "The Exes."
Diedrich Bader: It's always fun to do a guest spot because you come in and you see how everybody runs the set because they have this little autonomous unit. I used to compare "The Drew Carey Show" to an island. People would come to the island. It becomes this really insular thing where you really have this life. So it's always interesting to do a guest starring spot because you're sort of glancing into other people's lives. It's like not only being in somebody's living room but waking up with them in the morning and seeing how they really function. This is a functional show, which is cool. I've been on a lot that are not, that are really just terrible.
It was sad to see "Outsourced" get canceled, not because it was a funny show but because you were funny on it. When that happens, do you just roll with the punches?
Yeah, it's tough when a show is canceled. I really liked working with the cast. They were really nice on that show. The hours were long. It was a single camera comedy. So we were working 12 or 14 hours a day. Initially, Charlie was a very small part and then it got bigger and bigger. I actually talked the executive producer, Robert Borden, who's a genius and is really nice, and asked him if I could be on less of the show. He was like "No. You're testing well and we're paying you." But it's one of those things where the hours were just so long that when it went away, I didn't mind. What I'd really like to do is more multi-camera shows like this. I love this world. I love the audience. I love the whole live feel of it and I missed that a lot. That said, I'm pretty rusty because I've been doing almost all single camera stuff. So to hold for laughs and stuff like that, it's different. It's a totally different part of your brain. I don't know how many multi-camera episodes I've done, probably around 250. But I still feel nervous about the audience. It's been a while. People -- with the exception of CBS -- aren't doing it anymore which is sad because it's the greatest job in Hollywood.
Is that what attracted you to the role and TV Land?
Oh yeah. TV Land is like comfort food. You watch their shows like "Hot in Cleveland" and it's like mashed potatoes and butter. It's just so good that you want to just keep watching. It's not trying to be a movie, which a lot of the single camera shows are. It's trying to be exactly what it is and I like that about it. I grew up watching this format. "The Mary Tyler Moore Show" and "Bob Newhart" and I loved them. So I was very sad to see the multi-camera go away.
At one point all the sitcoms on TV died, and when they came back, most of the shows were single camera. What did you think about that shift? How did it affect you?
It was harsh especially for someone who makes his living doing comedies. It was really difficult. I don't want to do movies. I want to do television. I like coming in regularly and I like to stay in town. If you do movies, you're out of town and I don't like being on location. I don't like to be away from my wife and I don't like being away from my children. I just don't like it. I'm deeply unhappy when I'm doing it. I'm reading the lines and thinking "Is this all worth it? Is there any real point to this? Other than selling popcorn, am I really doing anything?" Some would say "Yeah, you're entertaining people and hopefully that brings joy to their lives." But still. What's the point really? You only go around once. If I don't do it, some other actor will and will probably be really happy doing it while I'm just sitting in my room boo hooing. 
Before becoming a husband and a father, did you feel that way?
No because I didn't have anybody to go home to. Back then, I was the life of the party at the bar. I didn't see any point in going back to an empty hotel room. But now I go back to the empty hotel room so I can call my kids and say goodnight.
When you became an actor, was TV the tack you thought you'd take?
Yes. Not a lot of people see themselves as supporting actors but I did. I would watch these guys on television like Tom Poston, for example, and I just loved Tom Poston. I would think "When I grow up, I want to be Tom Poston." He was a character actor who didn't seem to have to worry about anything. He only had jokes. I love multi-camera shows. My brother would get mad at me because I would watch "What's Happening" and just everything, all of them. The characters were broader like in silent movies. I had this fantastic catharsis when I was on "The Drew Carey Show" that I was doing exactly what I should be doing. This is what I wanted.
"The Exes" airs Wednesdays at 10:30 p.m. ET/PT on TV Land.