'Goonies' reunion on 'Teenage Mutant Ninja Turtles'
Sean Astin and Corey Feldman reunite for Season 2 of Nickelodeon reboot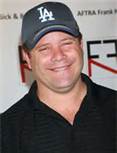 The 1985 kid classic "The Goonies" was as awesome as it was because of Mikey and Mouth.
Sean Astin starred as the doe-eyed protagonist, Mikey, and Corey Feldman played his wisecracking know-it-all friend, Mouth, in the whimsical pirate mystery. But they haven't worked together since -- until now.
Astin and Feldman will reunite for Season 2 of Nickelodeon's "Teenage Mutant Ninja Turtles." Voice star Astin, 41, plays Raphael, one of the pizza and ninjutsu-loving reptiles on the animated show, and Feldman will recur as a secret character, reports TV Guide.
Bing: More on 'Teenage Mutant Ninja Turtles' | Sean Astin | Corey Feldman | 'The Goonies'

"The coolest part is it's two Goonies working together again after all these years," Feldman, 41, said. "Which is crazy, because we're all such good friends."
Plus: Canceled or renewed TV shows |  2012 year in review
Astin and Feldman both tried out for Raphael, but Astin got the job. The show debuted in September. Determined to use Feldman and stage a quasi-reunion, "TMNT" executive producer Ciro Nieli promised to pen a part for Feldman, who voiced Donatello in two "TMNT" flicks. Rob Paulsen, who voiced Raphael in the original series (1987-96), now voices Donatello on Nick's reprised version.
"(Feldman's) role is a perfect complement to his relationship with Sean," Nieli said. "It couldn't be any better."
As for an actual sequel to "The Goonies," Astin thinks it could happen, but Feldman is less certain. In the end, it will be up to the movie's original producers, Steven Spielberg and Richard Donner. Fingers crossed.
Season 2 of "Teenage Mutant Ninja Turtles" kicks off in 2013.