'Office' Clearing: Who Will and Won't Return
B.J. Novak is latest of five major reported departures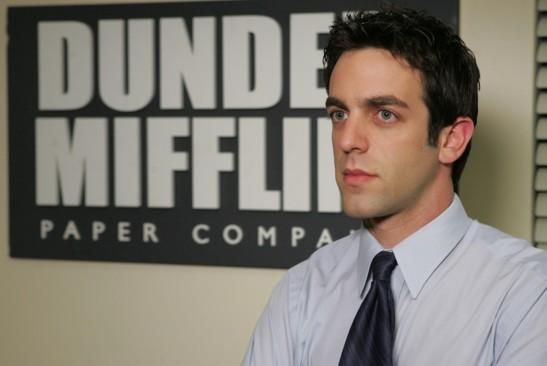 When NBC's number-one comedy, "The Office," returns next season, the payroll will be missing at least five of the major characters whom viewers have grown to love.

Bing: More about 'The Office'
The latest casualty, according to TV Guide, is B.J. Novak, who plays Dunder-Mifflin temp Ryan Howard and is the series' lead writer. Novak may still make occasional appearances, and even write. However, his full-time tenure is over.

Also: Taboo TV | Plus: Boys of Summer | Stars who were fired from shows

Got those scorecards out? Here are the latest known statuses of this past season's lead characters:


Out for good: James Spader (Robert Calfornia)
His arc was never intended to last longer than one season.


Out most likely for good: Rainn Wilson (Dwight Shrute), Mindy Kaling (Kelly Kapur) and Paul Lieberstein (Toby Flanderson)
According to most reports, Wilson will star in an NBC "Office" spin-off called "The Farm," which will be run behind the scenes by Lieberstein, who served the same function for "The Office." Kaling is set to star in a new FOX fall comedy called "The Mindy Project." Return "Office" cameos by one or more of these characters is possible but not probable.


Out with guest appearances likely: B.J. Novak (Ryan Howard)


In, but scaling back their appearances to accommodate movie careers: John Krasinski (Jim Halpert) and Ed Helms (Andy Bernard)


In: Jenna Fisher (Pam Halpert), Catherine Tate (Nellie Bertram), Ellie Kemper (Erin Hannon), Leslie David Baker (Stanley Hudson), Angela Kinsey (Angela Martin), Brian Baumgarther (Kevin Malone), Craig Robinson (Darryl Philbin), Oscar Nunez (Oscar Martinez), Creed Bratton (Creed Bratton), Phyllis Smith (Phyllis Vance), Kate Flannery (Meredith Palmer) and Zach Woods (Gabe Lewis)

Will enough of your favorite characters be back to justify the space on your DVR? Tell us below!


Season 9 of "The Office" premieres Thursday, Sept. 20, at 9 p.m. ET/PT on NBC.