Look Who's Talking in Daytime: April 30 to May 4
'The Avengers,' Mother's Day fare and the search for the G-Spot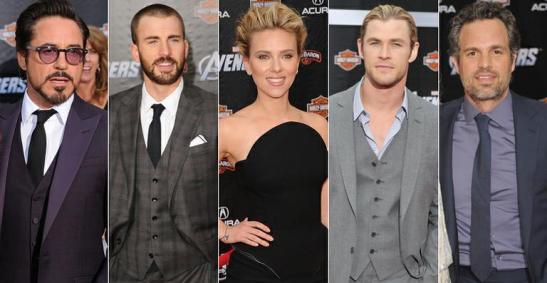 The daytime lineup for the week of April 30 promises juicy star sightings, tons of guest hosts and, in preparation for Mother's Day, the skinny on new books hitting stands. Stars from Marvel's "The Avengers" and "'Darling Companion" are promoting their big screen efforts. From the small screen, watch for favorites from "Private Practice," "Person of Interest," "Hawaii Five-0," "GCB," "The Big C," "The Client List," "Castle," "Unforgettable," "The Middle," "The Office," "30 Rock," "Parks and Recreation" and "2 Broke Girls;" not to mention Steven Colbert, Amanda De Cadenet and stars, contestants and castoffs from "American Idol," "Dancing With the Stars," "The Biggest Loser," "Celebrity Apprentice," "Fashion Police" and "The Amazing Race." Meanwhile, if Mom loves reading, Sissy Spacek, Vanessa Williams, Bethenny Frankel, Lisa Rinna, Auma Obama, Meredith Baxter, Kristine Carlson, Anne Geddes and Cynthia Sass are just a few writers talking up their new releases, which include novels, memoirs and a sex-help guide. Other notables coming to daytime include Bill Clinton, Dame Judi Dench, Barbara Walters, Ryan O'Neal, Jennifer Tilly, Raven-Symoné, Meredith Baxter and Dr. Adam Ostrzenski, the semiretired doc who found the g-spot. Plus, Carrie Underwood, Anita Baker, Lady Antebellum, Norah Jones, Samantha Ronson, Emeli Sandé, B.o.B. and Bruce Springsteen's E Street singers perform.
Bing: More about Marvel's "The Avengers"
With May sweeps upon us, there are lots of guest hosting and gaming afoot in daytime. "The Wendy Williams Show" kicks off a wiggy and giveaway-packed countdown to the 500the episode. On Monday and Friday, "The Ellen Show" is promising big surprises. Kristen Johnston kicks of co-host Mondays on "Anderson," while "The Rachael Ray Show" continues its own co-host Mondays tradition with Buddy Valastro and also celebrates game week. Pat Kiernan, Ben Mulroney and Josh Groban clock in as guest-hosts on "Live! With Kelly." Eden Sher and Bruce Jenner guest host on "The View." Trisha Yearwood, Al Michaels, Shannen Doherty and Carnie Wilson guest host on "The Talk."
Also: What shows will be returning next season?
Schedules subject to change. Repeat notation provided when possible.
"Anderson"
Mon: Kate Walsh; Co-Host Monday with Kristen Johnston
Tues: Judi Dench, "American Idol" castoff Elise Testone
Wed: Aziz Ansari
Thurs: Vanessa Williams, Mommy Madam Anna Gristina's Husband
Fri: 19-year-old girl convicted of murderer Toni Fratto

"The Ellen DeGeneres Show"
Mon: Diane Keaton; Donald Driver and Peta Murgatroyd perform
Tues: Jessica Alba, Scott Caan; Pauly D guest deejays
Wed: Sophia Grace and Rosie, Julianna Margulies, Kevin Nealon
Thurs: Bill Clinton, "American Idol" cast-off Elise Testone
Fri: Scarlett Johansson and Robert Downey Jr., "The Voice" cast-off Jamar Rogers 

"Good Morning America"
Mon: Chris Evans and Chris Hemsworth; Carrie Underwood, Dan Rather
Tue: Tony Dovolani; Carrie Underwood performs
Wed: Mark Ruffalo, Eden Sher, Tueday's "Dancing with the Stars" castoffs; Anita Baker performs
Thurs: Norah Jones performs
Fri: Nathan Fillion; Barbara Walters, Rachael Ray
"Live! With Kelly"
Mon: Donald Trump; the latest "American Idol" castoff performs; co-host Pat Kiernan
Tue: Daniel Dae Kim; Samantha Ronson performs; co-host Pat Kiernan
Wed: Mark Ruffalo, Lisa Rinna; the winner of "The Biggest Loser"; co-host Josh Groban
Thurs: Sissy Spacek; Beth Behrs; co-host Josh Groban
Fri: Nathan Fillion; co-host Ben Mulroney
"The Rachael Ray Show"
Mon: Sherri Shepherd, co-host Buddy Valastro
Tues: Wayne Brady, Kate Walsh; Emeli Sandé performs
Wed: Jenna Fischer, Jarod the Animal
Thurs: Cybill Shepherd
Fri: Ryan O'Neal, a "Cash Cab" ride

"The Talk"
Mon: Michael Ealy; Trisha Yearwood guest co-hosts
Tues: Poppy Montgomery
Wed: Annie Potts; Al Michaels guest co-hosts
Thurs: Jim Caviezel, Mark Jackson and William "Bopper" Minton; Shannen Doherty guest co-hosts
Fri: Jennifer Love Hewitt; Carnie Wilson guest co-hosts

"Today"
Mon: Ryan O'Neal, Diane Keaton, Auma Obama, Kristine Carlson
Tue: Bethenny Frankel, Barry Manilow
Wed: Lisa Rinna and Ian Kerner, Kelly Osbourne, Bear Grylls, "The Biggest Loser" winner, Chef Vanessa, Anne Geddes
Thurs: Giuliano Hazan
Fri: Steven Colbert, Cynthia Sass

"The View"
Mon: Lady Colin Campbell; Dr. Adam Ostrzenski; B.o.B. will perform
Tues: Ryan O'Neal; Lady Antebellum perform
Wed: Bethenny Frankel; guest co-host Eden Sher
Thurs: Tracy Morgan
Fri: Chris Evans and Chris Hemsworth, Chef Marcela Valladolid; guest co-host Bruce Jenner

"The Wendy Williams Show"
Mon: Jennifer Tilly, baby animals with David Mizejewski, latest fired "Celebrity Apprentice" contestant Tues: Mark Deklin, Dylan Walsh; B.o.B. performs
Wed: Gabourey Sidibe, Meredith Baxter, George Kotsiopoulos
Thurs: Joel McHale, Jennifer Aspen; Bruce Springsteen's E Street singers perform
Fri: Raven-Symoné, Amanda De Cadenet