'Vampire Diaries' Talking Points: Is Klaus Really Gone?
Takedown time! Alaric's on a mission to kill Klaus and his bloodline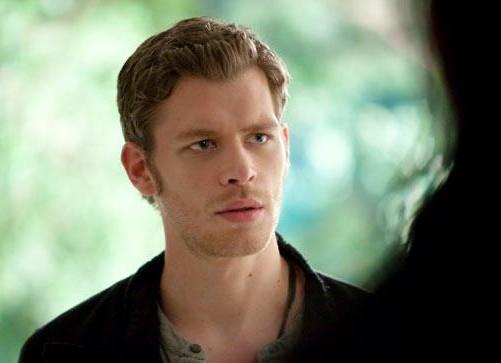 Last week, as Alaric attempts to die in peace, Bonnie and the witches fold his plans, forcing her to offer up her blood and revive him. Oops. That caused big problems on this week's "Vampire Diaries." 

Bing: More on "The Vampire Diaries"
The day after the dance, Rebecca was all in twist about Caroline showing up late for clean-up committee. Perhaps she was really mourning the loss of her mother, Esther. But that wasn't the only thing she had to worry about. It was takedown time! Alaric was reborn as a vampire, but Esther insured that he'd be a slayer, set to destroy the Originals and all who followed. But everyone thought he was dead-dead, so boy were they in for a shock.He attacked Rebecca and Caroline saved her, but then he broke her neck and dragged her away, crisping in the sun all the while. Rebecca told Klaus and announced, once again, that she was leaving. But Klaus wouldn't leave without Elena and his hybrids.
At the Gilbert pad, Damon and Stefan quizzed Bonnie on the situation – she said there had to be a way to reverse the spell. Bonnie suggested a desiccation spell her mother had used to put Michael down, at least temporarily. But it would take all of them – in cooperation – to do it. Including her witch-turned-vamp mother. Mom showed up, but she warned Bonnie that the spell would take her to dark places. "The spell allows you to stop a vampire's heart. To do that, we need to find a balance among the living. Can you handle that?" What? "I have to stop a human heart," Bonnie explained. Eeek. Why am I mourning Jeremy already? Yup, Damon asked him to hand over his ring. 
Ric, meanwhile, called Elena and said he had Caroline – and if they wanted her alive, she better get her butt to school. Caroline sure gets kidnapped a lot. Elena ran to school, where she found the girl strapped to the desk with a pencil slammed through her hand. Alaric said she could free her, but then blocked her. "How many times do I have to tell you, Elena? Stop trusting vampires."
Klaus showed up to, hoping to grab Elena for his road trip out of town. When the brothers Salvatore slammed the door in his face, he took a newspaper and threw it through the window – it hit like a brick. That's when the gang discovered Elena was MIA. Klaus, still trying to get into the house, started throwing stakes of wood – from the neighbor's fence – into the house. Then he came at the house with a tank of propane and an open flame. But Stefan came outside and informed him that he'd received a call from Alaric – who said Klaus better turn himself over, or Elena and Caroline were both dead. 
Stefan and Klaus got to school, where Klaus warned him that if this worked out, he'd still be taking off with Elena. Stefan said he'd come with. He had to do what he could to protect Elena. Then everyone sipped Bonnie's blood to get connected. Then Klaus reminded them that he was the creator of their bloodline, so it was in their best interest to protect him.
Inside the high school, Alaric strongly suggested Elena put Caroline out of the misery. "Isn't that what you wanted, Elena, for me to show you how to kill a vampire? If you don't side with the humans, you're just as bad as them." He slammed the stake into her hand, but she turned on him, splashing a glass of vervain juice in his face and releasing Caroline, who made a run for it. Klaus caught her and said, "We'll save Elena. You go straight home. You understand me?"
Elena called Alaric's bluff, saying she should just kill her. He couldn't. He was still in there somewhere. That's when Klaus grabbed Alaric, trying to reach his heart. At the same time, in the woods, Bonnie hovered over Jeremy, ready to stop his. But the connection broke and Alaric turned things around, ready to stake Klaus. He would have done it, too, but Elena took her little nail file and said, "Stop! Let him go or I'll kill myself." Elena had realized something. It wasn't that Alaric felt connected to her. He was connected to her. He wasn't immortal. Esther had linked his life to Elena's, so if she died, he'd die, too. "You're wrong," Alaric said, but as Elena sliced her own throat, he let Klaus go.
Stefan and Damon were passed out in the hall. Alaric awoke and told them what was happening. "The witch linked my life to Elena's, so Klaus is going to kill her," he said.
Elena awoke some hours later with a nurse draining her of all her blood, courtesy Klaus. Tyler showed up, shocked to see what was happening. He was still pretending to be sired to Klaus, so he did as told. "Don't worry," Klaus said, "it will be completely painless. As the last drop is drawn, you'll simply fall asleep." Meanwhile, he taunted her with the fact that she tore the Salvatore brothers apart. "Once you're dead, you won't have to choose. Their family stays in tact. No broken hearts. But just between us girls, who would you have picked." She told him to rot in hell.
Later, when Klaus stepped out, Tyler came back and tried to free Elena. Klaus caught him in the act, asking how he broke the sire bond. "By breaking every bone in my body 100 times for the girl I love. Maybe real love is stronger than fake loyalty," Tyler said. Klaus wanted to kill Tyler, but Damon and Stefan showed up. And Stefan caught hold of Klaus's heart. That's when Bonnie started the spell again, and Jeremy's heart stopped, too.
Of course, as Bonnie tried to revive him, nothing happened. But that was just a scare tactic. A few seconds later, he came back to life. But Klaus was still out. Stefan looked at his former friend, cold and seemingly dead, with a mix of relief and regret. He couldn't dwell, though. Time to take Elena home. And they still had to take care of Klaus's body. But before he and Damon left, she told them, "I know it's selfish. I know it seems like I'm stringing you both along. But if I choose one of you, I lose the other. And I've lost so many people. I can't bear the thought of losing one of you."
When Elena walked in to the house, she was welcomed by a victory party, complete with shots. They still had to figure out what to do about Alaric, who was now MIA, but they took care of Klaus. Then Tyler said, "Hang on, do you guys hear that?" Everyone paused in fear. "That is the sound of a Klaus-free life." 
Meanwhile, at Mayor Lockwood's, Alaric was having his own little party. A council meeting, where he called out the Mayor and Sherriff Forbes for being the proud parents of vampires themselves. He was taking over the council, and he meant business.
On the road, Damon was feeling celebratory. "Give or take a immortal hunter who wants to kill us, we won, Stefan," he said. To which Stefan added: "Turns out we make a pretty good team." Except for that Elena choosing between the brothers thing. "She'll probably make a list of pros and cons, and at the end of the day, dump both of our asses," Damon said. "Unless she chooses one us. Then in 60 years, we'll go back to being brothers and none of this will have mattered, right?"
In the end, Elena and Jeremy were alone in the house. They fretted over Alaric's life connection to Elena. "I'm not going to lose you, Elena." But he just might. When he went to take a shower, Elena passed out, blood dripping from her nose, unexplained.

Next week, Alaric and his newly-revamped town council are on a mission -- to rid Mystic Falls of vampires, once and for all.
"The Vampire Diaries" airs Thursdays at 8 p.m. ET/PT on the CW.