Look Who's Talking in Daytime: July 9 to July 13
'Good Afternoon America' joins the lineup, Seth Meyers returns to 'Live!'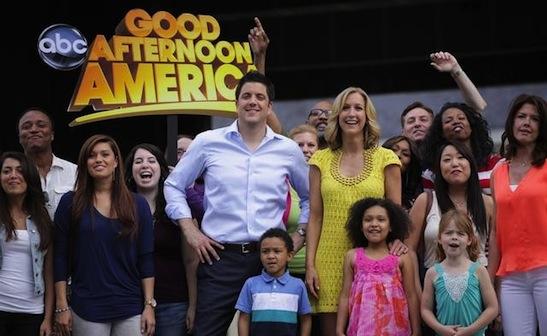 The big news in daytime the week of July 19 is the premiere of "Good Morning America" spinoff "Good Afternoon America" with co-anchors Josh Elliott and Lara Spencer. In addition, rumored "Live! With Kelly" front-runner Seth Meyers, will be the first guest co-host to cover a full week since Regis Philbin's exit. Beth Behrs, LeAnn Rimes, Carnie Wilson and Rita Wilson get into the guest hosting game elsewhere in daytime. 
Bing: More about 'Good Afternoon America' | 'GMA' | 'Today' 
Big screen stars from "The Dark Knight Rises," "Ice Age: Continental Drift," "Magic Mike" and "Trishna" are making the rounds. Plus, look for castmembers from the summer series "Political Animals," "Breaking Bad," "The Closer," "Damages," "Covert Affairs," "White Collar," "Wilfred," "Perception," "Dallas," "True Blood," "Web Therapy," "Exes" and "Girls;" along with reality TV players from "Mrs. Eastwood & Company," "Kendra On Top," "The Amazing Race," "Big Brother," "Extreme Makeover: Weight Loss Edition," "Haunted Highway," "NY Med," "Hollywood Execs" and "Design Star." Zac Brown Band, Luke Bryan, Ginger Zee, The Wiggles, Josh Turner and Rita Wilson perform. Other notables coming to daytime include J.R. Martinez, Shawn Johnson and Venus Williams.

Bing: The brows of summer | Also: Summer TV report card
 Schedules are subject to change.
"Anderson"
* Repeat Week *
Mon: Bethenny Frankel, Tom Bergeron
Tues: Suzanne Somers
Wed: Nicholas Sparks
Thurs: The Duggars, Lisa Kudrow and Blair Underwood
Fri: Families of Serial Killers, Quanitta "Queen" Underwood
"Bethenny"
Mon: Francesca Eastwood and Tyler Shields, Lisa Lampanelli 
Tues: Andrea Kelly and Mayte Garcia, Kendra Baskett, Dr. Roshini Raj 
Wed: J.R. Martinez, Fabio Viviani
Thurs: Maria Menounos
Fri: Hank Baskett, Rocsi
"The Ellen DeGeneres Show"
* Repeat Week *
Mon: Minnie Driver, Sarah Hyland
Tues: Jesse Tyler Ferguson, Ellie Kemper, Justin Bieber performs; Mindless Behavior performs
Wed: Seth Rogen, Bethenny Frankel
Thurs:  Wanda Sykes; Bon Iver performs
Fri: Ellen Pompeo; Glen Campbell performs; Sophia Grace and Rosie perform


"Good Morning America"
Mon: Eric McCormack, Kristen Johnston, Jack Osbourne, Chris Powell; Ginger Zee performs Tue: Dr. Mehmet Oz, James Carville, Stan Greenberg; The Wiggles perform
Wed:  Josh Turner peforms
Thurs: Carol Alt
Fri: Chef Adam Perry; Luke Bryan performs
"Live! With Kelly"
Seth Meyers guest-hosts for "Date Night Makeover" week
Mon: Kyra Sedgwick, Eric McCormack
Tue: Matt Bomer, Allison Williams
Wed: Glenn Close, Elijah Wood
Thurs: Anne Hathaway, John Leguizamo
Fri: Ray Romano, Kristen Johnston

"The Rachael Ray Show"
Repeat of "Hey, Can You Cook?!" all star week in Mexico
Mon: Chef Marcela Valladolid
Tues: Salma Hayek, surprise judge
Wed: Adam Sandler and Katie Holmes
Thurs: Mario Lopez
Fri: Bert Kreischer, Eva Longoria 
"The Talk"
Mon: Lisa Kudrow, Phil Keoghan; guest-host LeAnn Rimes 
Tues: Michael Weatherly, Linda Gray, "Design Star" finalist; guest-host Carnie Wilson
Wed: George Lopez; guest-host Rita Wilson performs
Thurs: "Big Brother" cast
Fri: Scott Foley, Fred Willard; guest-host Beth Behrs
"Today"
Mon: Ray Romano, Queen Latifah and John Leguizamo; Piper Perabo
Tues: Venus Williams, Bryan Cranston, Shawn Johnson, Kendra Wilkinson
Wed: Martha Stewart. Freida Pinto, Carla Gugino, the Scotto family. 
Thurs: Anne Hathaway, John Leguizamo, live animals
Fri: Morgan Freeman, Freida Pinto, Paul Sykes; Zac Brown Band performs 
"The View"
Mon: Dr. Mehmet Oz and Terry Wrong, Aaron Paul, Lara Spencer and Josh Elliot
Tues: Denis Leary, James Carville
Wed: Queen Latifah, Jose Baez
Thurs: Bryan Cranston, Mario Cantone,
Fri: Sigourney Weaver, Dr. Fredric Brandt

"The Wendy Williams Show"
* Repeat of "Wendy's Shameless Surprise Stunts" Week *
Mon: Toni Braxton, Tamar, Trina, Towanda, Traci and Evelyn; Kevin Clash
Tues: Snooki
Wed: Fran Drescher
Thurs: Jason Priestley, Stacy Francis
Fri: Chaz Bono, Cynthia Bailey
"Good Afternoon America" premieres Monday, July 9, at 2 p.m. ET/PT on ABC.