Dwight Schrute deserved his 'Office' spin-off
Why NBC should have bought 'The Farm'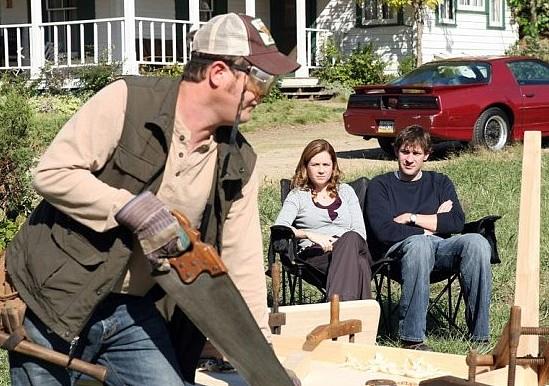 What a crime it is that NBC didn't buy "The Farm," the spin-off created for Rainn Wilson's Dwight Schrute. Every fan of "The Office" should be peeved about this.
Bing: More on Rainn Wilson | "The Office"
Some TV characters are so finely developed, so weird in an interesting way, they deserve better than to die just because their show does. Dwight Schrute is the mayor of such characters. Notorious for his lack of common sense and people skills, he is the most consistently funny character on a consistently funny sitcom, and the only one featured in every episode.
Written and produced by Wilson with Paul Lieberstein (the former "Office" showrunner who plays Toby), "The Farm" was to have explored life on the Schrute Farms beet plantation, which also doubles as a bed-and-breakfast with three theme rooms: America, irrigation and nighttime.

It would have followed Schrute, his hemp-growing younger brother Jeb (Thomas Middleditch), his cousin Zeke ("Breaking Bad's" Matt Jones), his Nazi grandfather Heinrich Manheim (Tom Bower) and his younger sister Fannie ("Roswell's" Majandra Delfino). (Dwight's cousin Mose would not have been featured, since the actor who plays him, Mike Schur, is busy being the showrunner for "Parks and Recreation.")
Plus: Breakout stars of the season | 'Downton Abbey' shockers | TV's real-life couples

A modified version of the pilot is still set to run as the Thurs., Feb. 21 episode of "The Office." (It had to be re-shot, presumably to keep Schrute from departing his Dunder-Mifflin job until the series finale.)
"The Farm" can't be bad or it wouldn't air as an "Office" episode. But even if it were, NBC could have ordered a remake with someone else in charge.

The name Dwight Schrute is known by an incredibly wide demographic swath of Americans. (With the fragmentation of TV, you can't buy branding that valuable anymore.) "The Farm" would also have helped NBC keep the ratings and goodwill it built from the series alive -- "The Office" was its top-rated comedy -- and helped Wilson's former co-workers keep their careers alive via between-project cameos.

NBC should have listened to Dwight Schrute himself when he said: "Before I do anything, I ask myself, 'Would an idiot do that?' And if the answer is yes, I do not do that thing."
"The Office" airs Thursdays at 9 p.m. ET/PT on NBC.