Look Who's Talking in Daytime: July 16 to July 20
The Obamas, Sir Elton John and more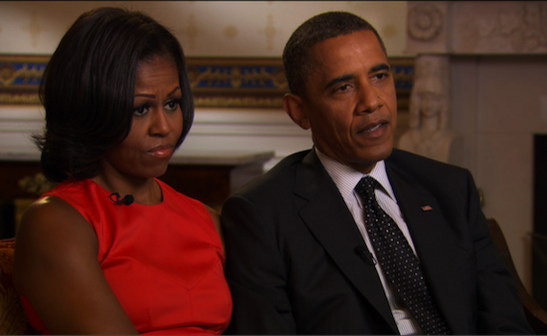 The big news in daytime the week of July 16 is Charlie Rose's visit with President Barack Obama and First Lady Michelle Obama, airing Monday on "CBS This Morning," and Matt Lauer's personal  "Today" interview with Elton John. Daytime also goes on the road with Jennifer Lopez and Enrique Iglesias, catches up with The Backstreet Boys and hosts performances from Florence and the Machine, Karmin and Dragonette, Hot Chelle Ray, Stefano Langone and more.
Bing: More about Elton John | Barack Obama 
Josh Groban, Kristin Chenoweth and Rob Thomas guest co-host on "Live! With Kelly," while Randy Jackson, Roseanne Barr, Susan Feniger and Guy Fieri get into the co-host game elsewhere. Stars from "The Dark Knight Rises," "Spiderman," "Ice Age: Continental Drift" and Broadway's "The Best Man" are making the rounds, along with reality show players from "So You Thing You Can Dance," "Snooki & JWoww," "Top Chef: All-Stars," "Extreme Makeover: Weight Loss Edition" and "Project Runway." Plus, stars are promoting "Political Animals," "Dallas," "Web Therapy," "The Newsroom," "Rizzoli & Isles," as well as the documentary "About Face: The Supermodels." There are also quite a few repeats on the schedule, but even those boast big name stars and performers. 
Also: Shows that went too soon | The brows of summer | Also: Summer TV report card
 Schedules are subject to change.
"Anderson"
* Repeat Week *
Mon: Subjects from TLC's "My Strange Addiction"
Tues: Mel Robbins
Wed: Sanjay Gupta, The Muppets, Miss Piggy
Thurs: Moms Behaving Badly
Fri: Julianne Moore, Jack Hanna
"Bethenny"
Mon: Lisa Kudrow; Hank Baskett, Rocsi and Ted "Stryker"
Tues: Lisa Rinna and Harry Hamlin and Tabitha and Napoleon D'umo; Cameron Mathison; Richard Blais
Wed: Brooke Burke-Charvet, Bob Harper 
Thurs: Maks Chmerkovskiy,  Sal Masakela and Hank Baskett
Fri: Denis Leary
"The Ellen DeGeneres Show"
* Repeat Week *
Mon: Robert Pattinson, Kristen Stwart, Taylor Lautner, Kellen Lutz, Ashley Greene, Nikki Reed, Jackson Rathbone, Peter Facinelli and Elizabeth Reaser; Bruno Mars performs
Tues: Scarlett Johansson & Robert Downey Jr., Jamar Rogers; Giorgio Fareira performs
Wed: Johnny Depp, Michelle Pfeiffer and Chloe Moretz, Alison Sweeney; Flo Rida performs
Thurs: Elizabeth Banks; Casey James performs
Fri: Jennifer Lopez and Cameron Diaz, John Mayer; Victoria Justice performs
"Good Morning America"
Mon: Chris Powell, Daniel Holzman and Michael Chernow, "Best in TV: The Greatest TV Shows of Our Time" preview; Stefano Langone performs
Tue: John Stamos, Kristin Davis and Cybil Shepherd; Chris Colfer, the Backstreet Boys live from London; Victor Cruz
Wed: Jennifer Lopez and Enrique Iglesias, Cameron Mathison; Florence and the Machine performs
Thurs: Heidi Klum, Tim Gunn, Nina Garcia and Michael Kors; Emmy nomination dish, Cameron Mathison
Fri: Clinton Kelly, Cameron Mathison; Karmin and Dragonette perform
"Live! With Kelly"
"Live's Coast-to-Coast Co-host Search" contenders compete all week
Mon: Kristin Davis; guest co-host Josh Groban
Tue: Gary Oldman, Nicole "Snooki" Polizzi and Jennifer "JWoww" Farley; guest co-host Josh Groban
Wed: Jesse Metcalfe, Victor Cruz; guest co-host Josh Groban
Thurs: Heidi Klum; guest co-host Kristin Chenoweth
Fri: John Stamos, Carla Gugino; guest co-host Rob Thomas

"The Rachael Ray Show"
Mon: Wedding special, Sunny Anderson
Tues: (repeat) Gretta
Wed: (repeat) First Lady Michelle Obama, Susan Lucci
Thurs: (repeat) Jennifer Hudson
Fri: Eric McCormack, Jo Frost
"The Talk"
Mon: Peter Gallagher; Meghan McCain, Brett Hoebel
Tues: Brooke Shields; guest-host Guy Fieri
Wed: Noah Wyle, David Myers; guest-host Alan Thicke
Thurs: Jason Biggs, Mary Murphy, Susan Feniger
Fri: Snooki, Chris Powell; guest-host Pat Harvey
"Today"
Mon: Rebecca Jane Weinstein
Tues: Elton John. Gary Oldman 
Wed: Snooki and JWoww. Sara Haines 
Thurs: Elton John, Gary Oldman
Fri: Larry King, Jennifer Tilly; Hot Chelle Ray performs
"The View"
Mon: Morgan Freeman, Lorraine Bracco
Tues: Mike Tyson, Chris Colfer
Wed: Jeff Daniels, Carol Alt and Beverly Johnson; Paul Williams.
Thurs: Judge Jeanine Pirro; guest host Roseanne Barr
Fri: Michael Caine, Michael Corbett; guest host Randy Jackson

"The Wendy Williams Show"
* Repeat of "Sexy Men" Week *
Mon: Blair Underwood, Marilu Henner, Linda Hogan
Tues: Ricardo Chavira; Tai Beauchamp and Carla Hall
Wed: Mekhi Phifer, Victoria Gotti, Ben Lyons
Thurs: James Denton; Ruben Studdard performs
Fri: Michael Ealy, Matthew Modine