Marcy Rylan teases 'Young and the Restless' return
Abby is coming home, but she's leaving the Naked Heiress behind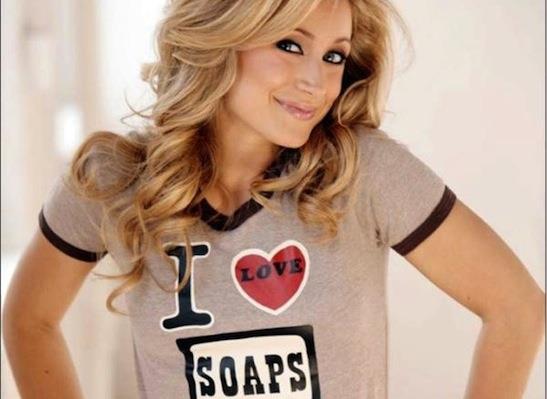 Abby "the Naked Heiress" Carlton was a hot mess during her last run on "The Young and the Restless." To be fair, it's not easy being both a Newman and an Abbott! With Abby set to come home to Genoa City Monday, Feb. 11, portrayer Marcy Rylan revealed the little diva is finally over the fame game.  
Bing: More about "The Young and the Restless" | Marcy Rylan 
Abby was sent packing during last fall's "The Young and the Restless" reshuffle, along with several other Genoa City locals. When MSN TV caught up with Rylan, she opened up about returning to the fold after getting the axe and teased her character's new outlook on life.
Also: Shows guys watch when women aren't looking | 'Smash' Season 2 preview
What was your first day back at "The Young and the Restless" like?
When I was gearing to come back, I was a little nervous. I was like, "Man, is this going to awkward?" Then I did my first fitting: We have a new costume designer, so it felt like I was starting over somewhere new. I was really nervous! But then she picked such fabulous clothes. I tried on all these outfits that were very Abby and once I was in the clothes, I was like, "Oh yeah, this feels like second nature!" I was super excited, so I started out the week really positive.
What kind of welcome did you get from your costars?
We had a big love fest. There was lots of, "Remember the time you were fired?" (laughs) Yeah, remember that? That was fun. What was that, eight weeks ago? It was super lighthearted and everyone was so nice. And there were all these new people! I went to the cast meeting and I was like, "I don't know who half these people are." Jhoannna [Flores, Adriana] came up to me and said, "I was so excited to hear you were coming back." I had never met her before, so I was confused. She said, "Everyone said such nice things about you." That was so nice.
With all these new actors around and a new boss at the helm, is the vibe on the set different?
It is. One of the traps of being on a soap is keeping it fresh. Everyone who is a regular character on a soap faces this. You can get into a rut or get lazy, so there's something fantastic about new people. They're fresh, present and excited about being there. At the end of my first week, I was like, "That was great." The vibe [executive producer Jill Farren Phelps is] creating on set is positive and energized, so it made those of us that were getting a little comfortable step it up a little bit. I really, really like what she's got going on there right now.
Is it flattering that of all the actors let go during the reshuffle, you were the only one asked back?
Every single person who was let go is a really good actor. I definitely don't feel, "Oh, I must've been doing a better job than most of them." They brought their A game everyday. I wish they were still here, but I think it was [about who your character] was related to and pushing all this story that's being created now. In general, getting an acting job is like winning the lottery. It's a numbers game and this was a numbers game. Because soaps are so special in their longevity, it tricks you into thinking that you're in a normal 9 to 5 job. But the truth is, [as actors] we're all going to be unemployed. It just depends when.
What did you do with your time off?
I didn't go on any auditions. I got new headshots done, I worked out like a crazy person and I've been taking tons of acting workshops in preparation for pilot season, plus enjoying all of the holidays.
What about Abby? What has she been up to since she took off in October?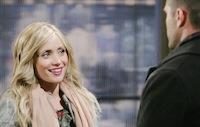 She spent a lot of time with her mom [Ashley], shopping and hanging out. Somewhere in that vacation that is Abby's life - because she has so much money that she doesn't have to work! - she did some soul searching. It's the first time Abby's feeling a little embarrassed about her previous choices, like, I don't know? Maybe when she rode a horse naked through a restaurant! It took her three years, but she finally thought, "I could hang out, shop and do nothing with my life…. or maybe I should rebuild my reputation and actually start a life for myself."
She doesn't want to be the Naked Heiress anymore. She doesn't want to do a reality show and have her name up in lights. She's not after fame. She trying hard to be a better person and care about other people, which she hasn't done in a long while.
Where does Carmine fit into that?
They have some interaction. Abby is a little surprised by what Carmine has to say. It's interesting.
Will Abby jump right into the action when she returns to town?
She's like, "Hi, I'm back." She ties up a couple of things that she left undone and she has to find out what stage of war her dad [Victor] and Jack are at. They're always at varying stages of some sort of fight! She's getting updated on everything, and then dealing with seeing Carmine again. She's kind of figuring out where she fits in Genoa City if she's not going to be running around naked. She has to find where she belongs.  
"The Young and the Restless" airs weekdays on CBS.
Episodic image courtesy of JPI.