Showtime Gives Fans a Big Bite of 'Homeland'
The first 25 minutes of the Season 2 opener available online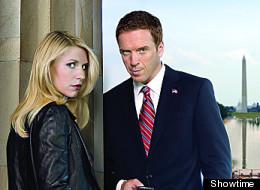 Sometimes it is better to have a nibble of something wonderful than a whole meal of mediocre.
Bing: More about 'Homeland' | Claire Danes | Damian Lewis
At least that's the case with the very tasty 25-minute preview of "Homeland" Season 2 Showtime has made available on Sho.com.
It's a succulent preview that gets fans up to speed on Carrie (Danes) post-electric shock and Brody (Lewis) and his new ambitions and family life.
Plus: TV shows for snobs | Beloved shows with low ratings
Will Carrie get back in the spy game and just what is Brody up to now? Ahhh! Savor these morsels until the drama returns, my friends. Savor them.
"Homeland" Season 2 returns Sunday, Sept. 30, at 10 p.m. ET/PT on Showtime.
Are you sure you want to delete this comment?