'Downton' Dish: Star Spills on Season 3
'Downton Abbey' star Joanne Froggatt expects high drama next season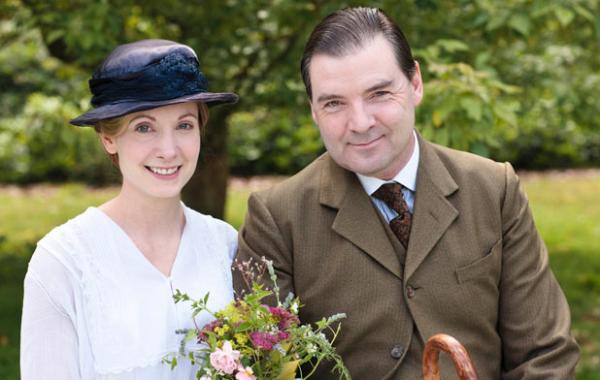 If you're itching for some scoop about your favorite Brit period costume drama, well, "Downton Abbey" star Joanne Froggatt is about to deliver.

The veteran Brit TV starlet plays the fairer half of one of the PBS Masterpiece Theatre sudser's more swoony storylines -- the romance between valet Mr. Bates, who's currently incarcerated for allegedly killing his first wife, and her character, housemaid Anna, who's recently become his second. "She's just a really nice person, and she's not wishy-washy either, Froggatt told
MSNBC's the Clicker
about her character. "I've tried hard not to make her too angelic, though." 
For Froggatt, who's starred in Brit shows like "Paradise Heights" and "Robin Hood," Anna's sweetness is refreshing. "Some people say playing a nice person is boring, but it's a departure for me," she said. "I've played a lot of traumatic and emotional roles before, so Anna has been a nice change." 
Still, she'd be pleased to see Anna take a sharper turn. "Maybe she will go after Thomas after all," Froggatt said. "She can only be nice for so long." 
So what can we expect for season three? Well, lovebirds Bates and Anna are still separated because he's still a, uh, jailbird. "She's still charged with trying to get him free," Froggatt explained. "And that's probably all I can tell you. That, and we have the lovely Shirley MacLaine." 
MacLaine was recently cast as Lady Grantham's mother, Martha Levinson, visiting from the United States. "She was incredible! Watching her on set was one of the most magical days. At one point, her character sings -- she's accompanied by the piano -- and I remember thinking how amazing she is." 
But it's not all high notes next season. MacLaine's character faces some friction from fan favorite Violet, Dowager Countess, played by fellow Oscar winner Maggie Smith. "She and Maggie get to have some spiky conversations between them, and the chemistry is amazing," Froggatt revealed. "We call them our 'dames'!" 
"Downton Abbey" will return to PBS for its third season next year.