Ellen DeGeneres enjoys 'SNL' spoof
The queen of nice gives impersonator Kate McKinnon a thumbs-up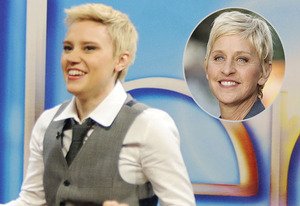 Does Ellen DeGeneres ever get mad?
Daytime TV's queen of nice said she likes the spoof "Saturday Night Live" did of her last weekend. In case you missed it, new cast member Kate McKinnon mastered DeGeneres' voice, dance moves and mannerisms to a tee.
Bing: More on 'Saturday Night Live' | 'The Ellen DeGeneres Show' | Ellen DeGeneres | Kate McKinnon
"It was fun to watch, but it's weird to be impersonated," DeGeneres said on her show this week. "You look at it going, 'Really? Do I sound like that?'"
Yes, Ellen. You do. DeGeneres said she watches "Saturday Night Live" every week and thinks this year's cast is great. She even impersonated McKinnon, 28, impersonating her.
Plus: TV's changing tides | Dead shows we wish would return
"I didn't like it. I'm just kidding, I'm Ellen! I like everything!," she said, before adding that McKinnon could even tackle her holiday obligations for her.
"She's really funny," she said. "I'm going to invite her to L.A. because I want her to go to Thanksgiving for me."
In the end, the spoof of the 54-year-old talk show host was mostly flattering but you could tell the whole thing made DeGeneres a little uncomfortable even as she poked fun at it and herself.
"Saturday Night Live" airs Saturdays at 11:35 p.m. ET/PT on NBC. "The Ellen Degeneres Show" airs weekdays in syndication. Check your local listings.

ellen i love your show very much. BUT i have seen you scar people left and right. have you ever thought about being a bully? i try to teach all the kids in my life not to treat people in that way. me and many others think bullying come in all forms and that's one way. I think if you wont to do this behavior you don't show it on tv where kids see it and think its ok to acted that way. thank you melissa chambers
Are you sure you want to delete this comment?