Latest 'Simpsons' PSA: Mr. Burns on the fiscal cliff
The richest man in Springfield tries to define America's looming financial crisis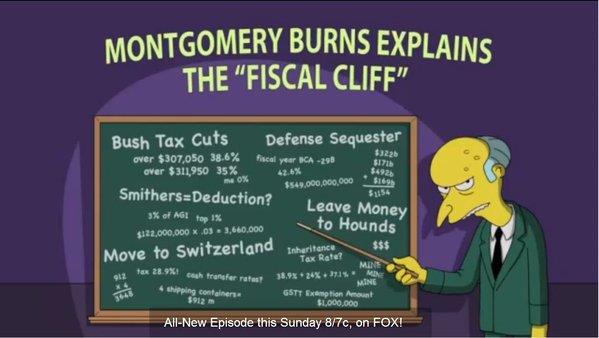 Confused about the "fiscal cliff"?
Don't worry. The masterminds behind "The Simpsons" are using nuclear power plant tycoon, Montgomery Burns, to help you understand 2013's impending tax increases and spending cuts. OK, not really. But at least you can laugh about the issue thanks to the animated hit's most recent political satire generating buzz on the web.
Bing: More on 'The Simpsons' | Mr. Burns
In the PSA spoof, a disheveled Mr. Burns is first shown at Springfield's Republican headquarters lamenting the loss of GOP presidential nominee, Mitt Romney.
Tissues and books such as "Nate Silver Can't Add" and a binder called "Women" litter the floor until Smithers comes and tells Mr. Burns the election is officially over.
Plus: 2012's most memorable TV moments | Canceled or renewed
Upon hearing and accepting the news, Mr. Burns gets reinvigorated enough to give his interpretation of the "fiscal cliff."
"Think of the economy as a car and the rich man as the driver," Mr. Burns explains. "If you don't give the driver all the money, he'll drive you over a cliff. It's just common sense."
Mr. Burns then goes on to insult the Irish and Florida Sen. Marco Rubio and the, umm, well-intentioned PSA falls apart. But that's all part of the fun. Check it out:
"The Simpsons" airs Sundays at 8 p.m. ET/PT on FOX.