'Arrested Development' 2.0 Confirmed
Netflix to premiere 10-episode new season next year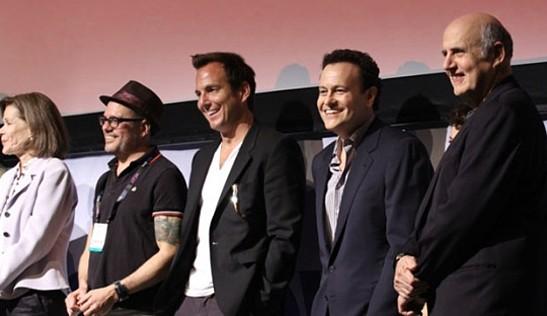 Development is now the furthest thing from arrested. A full season of 10 brand new "Arrested Development" episodes is officially confirmed to premiere on Netflix in 2013, according to Vulture.com. The report quotes series creator Mitch Hurwitz and Netflix head Ted Sarandos, both of whom appeared at the recent National Association of Broadcasters convention with a handful of reunited cast members.
Also: What shows will be returning next season?
Following the model of the Netflix series "Lillyhammer," all the episodes will appear at once on a single premiere day.

Bing: More about Mitch Hurwitz | 'Arrested Development'

Hurwitz looked even further ahead than the new season, which begins shooting this summer, saying that he "would love this to be the first of many visits." 


All the original cast members are expected to reprise their roles, including narrator Ron Howard, with Scott Baio replacing Henry Winkler as the inept Bluth family lawyer -- as he did in the third season.


Originally, Hurwitz intended to revive the FOX-canceled comedy by having each episode focus on a single character. But, he said, "that is now kind of evolving into becoming more like the old show again."


Hurwitz also said he will try to use evolving Netflix technology to allow viewers to access other parts of the story while watching.


No mention was made of the oft-reported "Arrested Development" movie.