Look who's talking in daytime: Nov. 5 to Nov. 9
Election coverage, hurricane relief and 'Twilight' mania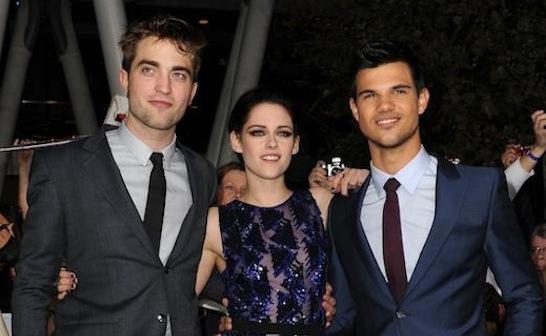 Hurricane Sandy blew last week's daytime schedule out of the water, but things are back on track for the week of Nov. 5. The election and hurricane relief will be hot topics, as will "The Twilight Saga: Breaking Dawn - Part 2." Kristen Stewart, Robert Pattinson, Taylor Lautner, Peter Facinelli, Elizabeth Reaser, Nikki Reed, Maggie Grace, Jackson Rathbone and Mackenzie Foy will be fueling "Twilight" fever. Daniel Craig, Naomie Harris ("Skyfall") and Josh Peck ("Red Dawn") are also promoting their movies. Look for prime-time stars from "CSI: Crime Scene Investigation," "Blue Bloods," "Walking Dead," "Last Resort," "Dexter," "Boardwalk Empire," "Switched at Birth," "Sons of Anarchy," "Glee," "30 Rock," "The Big Bang Theory," "Raising Hope," "Don't Trust the B---- in Apt 23," "Happily Divorced," "The Exes," "Wedding Band," "Jersey Shore," "The Real Housewives of Beverly Hills" and "Home Made Simple." 
Bing: More on "Anderson Live" | Queen Latifah
Plus, Ne-Yo, Jason Crabb, Jackie Evancho, Mac Powell and Jerrod Niemann are set to perform. "Marie" has Donny Osmond in the house. Jeff Probst spends a day with "Days of Our Lives" stars. "Steve Harvey" sits down with Cedric the Entertainer on Friday, after talking issues all week. Other notables coming to daytime include Ricky Gervais, Michael J. Fox, David Hasselhoff, Jessica Chastain, Sheryl Crow, Miley Cyrus, Rick Springfield, Russell Brand, Cheech Marin and NBA star Keyon Dooling.
Plus: Co-workers and workplaces we wish we had | Shows that should be canceled
In case you missed the news, 'The Queen Latifah Show' has found home for a fall 2013 launch, while "Anderson Live" won't return for a third season.
Schedules are subject to change
"Anderson Live"
Mon: Co-host Kyle Richards; Krysten Ritter; Joran van der Sloot's Guardian Angel Mary Hamer
Tues: Co-host Keke Palmer; Live Election Day Coverage, True Crime Tuesday exclusive
Wed: Co-hosts Meghan McCain and Tamron Hall; post-election show live from D.C., with NYC town hall meeting
Thurs: Co-host Keke Palmer; Cheech Marin, Scam Alert: Hidden camera investigation on repair ripoffs
Fri: Co-host Iyanla Vanzant; How Safe Is The Food You're Eating?
"Ellen"
Mon: Peter Faccinelli and Elizabeth Reaser; 6 year-old Piano Prodigy Andy Lee performs
Tues: Heidi Klum; Nikki Reed and Mackenzie Foy
Wed: Russell Brand, Bethenny Frankel
Thurs: Miley Cyrus; Maggie Grace and Jackson Rathbone
Fri: Robert Pattinson and Taylor Lautner; Kirstie Alley
"Good Morning America"
Mon: TBA
Tue: TBA
Wed: TBA                               
Thurs: TBA
Fri: TBA
"Jeff Probst Show"
Mon: Kristian Alfonso, Drake Hogestyn, James Scott, Galen Gering and Bryan Dattilo
Tue: celebrity makeup artist Scott Barnes talks J Lo
Wed: Marlee Matlin, James Abomian
Thurs: Cindy Gallop and Emily Morse discuss the adult film industry
Fri: Kristen Bell
"Katie"
Mon: Michael J. Fox
Tue: Kelly Ripa and Michael Strahan
Wed: Steve Buscemi; Hurricane Sandy: Day of Giving
Thurs: Keyon Dooling; Kim Wohlert 
Fri: Real life miracles
"Live! With Kelly and Michael"
Mon: Halloween Party with DJ Pauly D
Tue: Gabrielle Douglas, Andre Braugher; Andy Grammer performs
Wed: Kristen Stewart, Josh Peck; Alvin Ailey Dance Company perform
Thurs: Robert Pattinson, animals from Wild Kingdom; Bellydance Superstars lesson
Fri: Taylor Lautner, Dame Judi Dench; New York Nets Brooklynettes lesson
"Marie"
Mon: Danica McKeller, Laura McKenzie; Jerrod Niemann chats and performs
Tues: Donny Osmond, Garret Dillahunt, Craig Dietz; arson fighting dog Sadie
Wed: Fran Drescher, Chef Jesse Brune, Laura McKenzie, teen philanthropist Mackenzie Bearup
Thurs: Carnie Wilson, Jason Gedrick; Mac Powell chats and performs
Fri: (repeat) Kellie Martin, David Alan Basche; Jason Crabb performs
"Rachael Ray Show"
Mon: Lara Spencer, Josh Elliott and Sam Champion; Sheryl Crow; Rick Springfield
Tue: Emeril, Matthew Morrison
Wed: Peter Walsh, Katey Sagal
Thurs: Jack McBrayer, Jackie Evancho performs; Thanksgiving dinner in 60 min 
Fri: Jennifer Morrison
"Ricki Lake"
Mon: Gloria Govan, Debbie Allen, Judge Mablean Ephriam
Tue: RuPaul, Jai Rodriguez and Ali Landry
Wed: Facing your fears                                    
Thurs: Dr. Kita Curry and Jill Bialosky discuss suicide
Fri: Patti Stanger; Mike Catherwood, Maxwell Billieon and Steve Santigati
"The Talk"
Mon: David Hasselhoff; Naomie Harris, chef Robert Irvine
Tues: Simon Helberg and Kunal Nayyar
Wed: Peri Gilpin
Thurs: Steve Harvey, Tom Bergeron
Fri: Tom Selleck, Sarah Wayne Callie, chef Rick Bayless
"Today"
Mon: Election Day Preview, Nathan Turner
Tue: Handicapping the race
Wed: Kristen Stewart, Nikki Reed                             
Thurs: Robert Pattinson, Sir Roger Moore, Ice-T and Coco
Fri: Donna Karan profile, Cody Simpson
"The View"
* Budget Week
Mon: Meredith Vieira and husband Richard Cohen; Ne-Yo performs
Tues: Election Day celebration; Diane Sawyer, "Jersey Shore" cast
Wed: Matthew Dowd, Ricky Gervais
Thurs: Jessica Chastain, Brian Austin Green, Debi Mazar
Fri: TBA
 "The Wendy Williams Show" 
* Vote Wendy lets viewers weigh in on shows this week
Mon: Phaedra Parks
Tues: Kyle Richards
Wed: David Hasselhoff
Thurs: no celebs on the docket
Fri: Carla Hall