Regis Philbin Talks Daytime on 'Larry King Now'
Former host admits he'd had enough of the lady talk
Regis Philbin
sat down with Ora TV's "Larry King Now" and revealed the monotony of working in daytime may have played a role in his exit from "Live! With Regis and Kelly." It seems he'd had enough of the makeovers, the babies and the talk geared at women. 
Bing: More about Regis Philbin | Larry King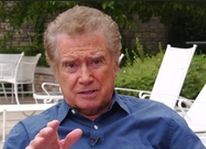 "I got a little bored with the repetition of the thing," Philbin told Larry King. "There were so many ambush makeovers you can do with the ladies. There were so many baby weeks you could do to pick the best baby. I just got a little tired of the same thing. Daytime appeals to the women. 
"And incidentally, have you noticed what's happened to daytime television? It's all about the women. There's Kelly [Ripa], there's Rachael [Ray], there's 'The View,' there's 'Talk,' there's 'Ellen.'"
Plus: Female heartthrobs of the 1990s | TV spin-offs
When King reminded his guest of Anderson Cooper's show, Philbin said, "He's the last guy left on daytime TV! It's all about the women and I've had enough. Kelly's doing a great job. I think it's all going to work out nicely."
Of course, "Anderson" won't be the only man in daytime for long. Steve Harvey and Jeff Probst both have talk show premiering this September.
The rest of Philbin's "Larry King Now!" interview is available at Ora.tv, along with past episodes featuring Aisha Tyler, Susan Sarandon, Betty White, Seth MacFarlane and more. 
Find "Larry King Now" online at www.ora.tv.com.