Meloni Mulls 'SVU' Drop-In
Former 'Law & Order' star discusses cameo possibilities during Comic-Con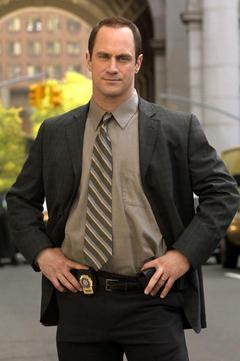 For the past several months, Christopher Meloni's been reveling in his return to HBO as vampire figurehead Roman on Season 5 of "True Blood."But no matter how far left the actor zigs toward profane, murderous baddies like Roman or psychopath Chris Keller on
"Oz," 
 "Law & Order" diehards will always always wonder when he'll zag back to NBC and "SVU."
TV Guide reports
that, during a "True Blood" panel this past weekend at  Comic-Con, Meloni was asked whether he'd ever make a return guest appearance as Detective Elliot Stabler on "SVU," a role he inhabited for nearly 300 episodes. His response? "I'm always willing to consider," he politely offered. "I had 12 great years on the show. I loved the people and I loved that character. There's no bad blood there. We'll just see when it comes. It's still doing OK, I guess."
Granted, that answer's more diplomatic than iron-clad, but once the words "always" and "consider" pop up in the same sentence, it invariably leads to excitable speculation (i.e. gossip). Which, in turn, could lead to a fan-driven campaign that lands Meloni back in his NYPD blues. Unless he opts to make career decisions based on his own personal enthusiasm and creative interest. Booooring.
"Law & Order: SVU" returns Wednesday, Sept. 26, at 9 p.m. ET/PT on NBC. "True Blood" airs Sundays at 9 p.m. ET/PT on HBO.