Tim Daly Gone From 'Private Practice' Season 6
Producers axed the actor but what will happen to his character?
If it feels like someone is missing from the promos for "Private Practice" Season 6, that's because there's no Tim Daly.
Producers decided not to bring back the 56-year-old actor, who played Dr. Pete Wilder for five seasons, this year. So what does that mean for the show and his character?
Bing: More on 'Private Practice' | Tim Daly  | Shonda Rhimes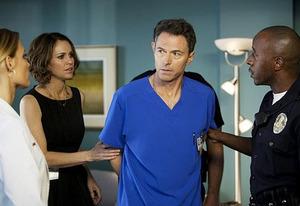 When Season 5 came to a close, fans saw the cops haul Pete away for euthanizing one of his patients. That means he could be sentenced to prison in the Season 6 opener, which debuts Tuesday, Sept. 25, or that patient's loved ones could exact deadly revenge.
This is a Shonda Rhimes drama after all and death is always an option.
Plus: 2012 Emmy predictions | Politically incorrect  'Saturday Night Live'
Daly didn't want to leave "Private Practice" and tweeted that he'd found out he wasn't going to be a part of Season 6 through his agent. Ouch!
But Daly should take comfort in the fact that his former co-workers don't have it much better. Although the Alphabet network renewed "Private Practice," executives haven't said how many episodes the series will get this season or if any other actors will get the boot.
"Private Practice" returns for Season 6 Tuesday, Sept. 25, at 10 p.m. ET/PT on ABC.