Getting to Know Scott Aukerman
Star of IFC's 'Comedy Bang! Bang!' talks upcoming episodes, tour, comic friends and more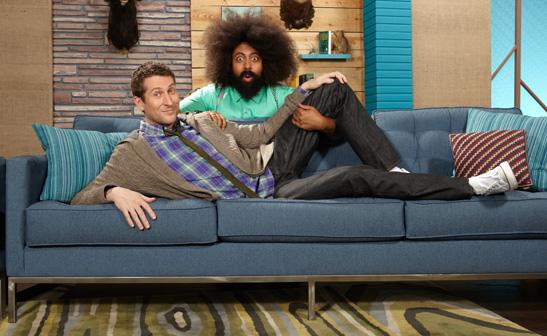 MSN TV
Probably best known for being one of the masterminds behind  the viral web comedy series, "Between Two Ferns With Zach Galifianakis," Scott Aukerman has now taken his talents to IFC as star of "Comedy Bang! Bang!" Based on the actor and comedian's popular podcast of the same name, "Comedy Bang! Bang!" is a clever and offbeat send-up of late-night talk shows, where celebrity guests such as Jon Hamm, Michael Cera, Amy Poehler, Zach Galifianakis and Marisa Tomei (among many) are treated to quirky and sometimes outrageous  lines of questioning. Throw in some comedy sketches, shorts and clever musical interludes from co-star Reggie Watts, and you get, along with "Portlandia" and the recently concluded "The Increasingly Poor Decisions of Todd Margaret," another fresh comedy offering from IFC.  "Comedy Bang! Bang!" airs Fridays at 10 p.m. ET/PT on IFC.
Bing: More about Scott Aukerman | 'Comedy Bang! Bang!'
MSN TV chatted with Scott Aukerman as he prepared to complete his multi-city comedy tour, "Comedy Bang! Bang! LIVE!" -- which, having launched at Comic-Con, is based largely on the series and features many of the its regulars.
MSN TV: How would you describe "Comedy Bang! Bang!" to those who haven't seen the show?
Scott Aukerman: Who are these people?
For this very small group of people, how would you describe the show?
It'd be easy to call it a fake talk show. But I think it's more of a real talk show, but the way that I want to do it -- which is I never talk to my famous guests about anything that's going on in their careers. The only time I ever mention anything that was going on was when I played a "Mad Men" clip to Jon Hamm and made fun of it. And I also have on the world's best comedians playing characters and doing sketches. It's a really fast-paced half-hour where I try to cram in as much comedy as I possibly can. There's probably more comedy in our half-hour than most late-night talk shows have in their hour.
How would you describe your particular brand of humor and what sets it apart?
I've been developing my brand of humor of the last few years, especially with the "Between Two Ferns" videos with Zach Galifianakis. What I really want to do with the show is cross the awkward feel of those videos with the style of humor you really don't see on late-night TV anymore: experiment, weird, bizarre sketches that don't make a lot of sense. I just wanted fuse those two things, which are styles that I really love. I just didn't want to do a dry, awkward show. I wanted to make something fun and really lighthearted, hearkening back to the days of early Letterman and "Pee-Wee's Playhouse" -- stuff that you really don't see anymore.
Have there been more recent sources of inspiration for you?
One of the reasons I'm working with Tim Heidecker and Eric Wareheim's production company on this show is because those guys redefined what comedy is on TV a few years back with "Time and Eric Awesome Show, Great Job!" When I saw the pilot of that show, I was like, "OK! Everything's different now." A certain element of that style bleeds into our show because we have the same editor and the same production company.  There's that, and I think there's been some great stuff over the last few years. At the same time, I feel that late-night talk shows don't do this type of stuff anymore. "Late Night" with Letterman in the '80s and Conan O'Brien in the '90s and the early '00s were always places where you could go and see something strange and experimental. That's kind of one away. Late-night TV is something that the networks really are protecting now instead of using as a dumping ground for weirdos who want to get their ideas out there.
Plus: Olympic TV efforts | Summer TV guide
It seems now that the most fertile dumping ground can be found elsewhere – like web series and podcasts, something you've obviously found success in.
I definitely found a lot of freedom when I first starting doing my podcasts. When I first started in three years ago, I had been producing a live-show, which served as a testing ground for a lot of the material you see on the TV show. And most of the performers have been on my live show. But in terms of the podcast, I'm at a place in my career where I'm writing a lot of scripts for movies and TV shows that end up not being made. And you make a lot of compromises along the way. I think a podcast and a YouTube video are such great ways for an artist and comedian to put something out there that's uniquely theirs. There's no one telling you what to do. There's no one giving you notes. There's no one saying, "Hey, you need to do this in order to broaden your appeal." The great thing about the TV show is that IFC is such a young network that they take a look at the podcast and go, "Hey, we'd like those numbers!" They let me do pretty much whatever I want to do on the show. And our fans really encourage it. I think it's a great marriage.
How much is actually scripted on the show?
Pretty much anytime we're in the studio and we're not doing a prepared comedy piece, all of that is improv. There are varying degrees of improv. With the celebrity guests, we have no idea what we're going to talk about. They're not prepared at all, with the exception of Michael Cera, who came in with the bit that he wanted to try about studying ornithology. But for the most part, with the celebrity guests, we don't prepare in the least. And then the character guests, we have a little more of an outline. There's something more natural about doing comedy without just it being scripted. If you were to script out a talk show, it would come out as stale and sterile, you know. Sometimes it's terrifying for me on the set. Sometimes it hits me like a thunderbolt, like, "Oh, we're taping a show today, and I have no idea what's going to happen." But it's also thrilling in a way.
Most viewers do know you from "Between Two Ferns." How did you get hooked up with Zach Galifianakis?
Zach and I have been friends for a really long time. I remember seeing him in L.A. doing shows. And I remember being at the Aspen Comedy Festival, and it must have been 1997. He was not invited to the festival. He just showed up and was doing his own separate festival. He was just trying to find any venue where he could do standup.  And I remember talking to him about that. I always admired his work, and we grew to be friends. Back in 2007, I was doing a project. I really wanted to work with him and have him be involved somehow, and he had this idea: He'd always wanted to do a very public access-y type of show. He had the title already: "Between Two Ferns." We thought it was really funny because whenever we'd watch public access cable, the only set dressing we would see was two ferns on other sides of chairs. I got Michael Cera to be involved. And that first one, we really didn't know what we were doing. We experimented and shot it in a basement, just kind of shouting out things to try and doing it in improv style and shooting with three cameras. We really liked the result and put it out for fun. It's crazy to me to think how widespread it is. If you mentioned it to a wide variety of people, they would know what it is. That's not to say it's "Batman." But professional athletes are now doing their own versions of it. Just last night I saw Brian Wilson of the San Francisco Giants do something like it. It's bizarre to work on something that seeps into the public consciousness that way.
With folks such as Jon Hamm, Amy Poehler, Paul Rudd, Will Forte, Seth Rogen, Zach Galifianakis  and Andy Samberg, this season's roster of guests is pretty darned impressive. How the heck do you know all these people?
Just being in comedy for so long. There's, for lack of a better word, a brotherhood and sisterhood where you kind of all agree to be in each other's stuff. I've worked with a lot of people over the years. And it's just a thing. So, when I see Ben Stiller, for instance, I kind of say, "Hey, can you be on my show?" And immediately he says, "Yes." I don't know what it is. We all agree to support each other. It's a great community. For the first season of the show, I wanted to go all out. If it was going to be the only season I did, I wanted to get as many of my friends in the show as possible. I think it made a great pace for the show. There're always new things happening: We don't dwell on anything for too long. It's so interesting: Last week, I could have Ed Helms, Seth Morris and Marisa Tomei. Every week, there're like eight to ten cool people in the show. I'm really enjoying calling in all those favors.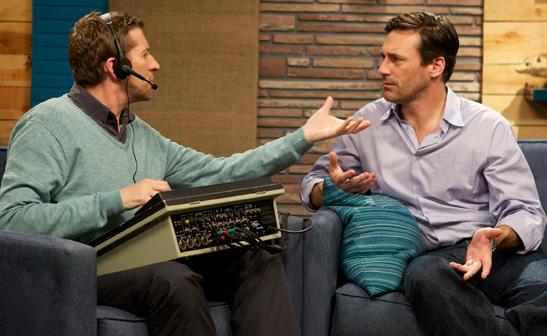 Who will be appearing in the last few episodes of the season?
In the ninth episode, we have Adam Scott from "Parks and Recreation." It was actually the first episode we shot. Also, Paul Tompkins, Patton Oswalt and Andy Samberg are in that one. And then in the one after that, we just went for broke. We knew it was going to be the season finale. Not only is Weird Al Yankovic the guest, but we have music from Tenacious D. And we have David Cross and some other surprises, as well.
Is there going to be a Season 2?
There's been no word. But as far as I'm concerned, there's going to be a Season 2. No one has told me officially, but I really hope to. I think we're just getting started. By the end of filming this season, we finally figured out exactly how to make the show. So, I would love to come back and use that knowledge some more.
Tell us about your tour.
I'm trying to not just do what you might see on the TV show. I'm not just doing a podcast taping. I'm really trying to combine every element of "Comedy Bang! Bang!" in this tour. The first half of the show is myself and whatever performers I happen to bring up there.  And we'll do more prepared material, stuff we would do in live shows or in clubs. And then I show a brief a sneak peek of what's coming up on the season finale of the show, while we reset the stage. Then the last half of the show is a completely improvised talk show akin to the TV show and the podcast with the comedians doing characters and their having no idea what we're doing. And that's completely different in every single city that we go to.
Any last words for your fans?
First of all, why aren't there more of you! Tell everyone you know that you watch the show. Seriously, it was amazing to see everyone on the tour. The last couple of episodes of the show are really special. If you want to see more of them, let IFC know. They really respond to even one or two emails. Let them know if you like something. Hopefully I'll be talking to you next year at the same time.
"Comedy Bang! Bang!" airs Fridays at 10 p.m. ET/PT on IFC.