Q&A: Emmy Nominee Giancarlo Esposito
Bringing the villainy to 'Breaking Bad,' 'Once Upon a Time' and 'Revolution'
Gus may have met his demise on "Breaking Bad," but portrayer Giancarlo Esposito is still on top of the world. Not only did his final run as a "Breaking Bad" kingpin land him an Emmy nomination, but he also got to create trouble as a simpering softy on "Once Upon a Time." Now he's riding a new horse as a villain in NBC's upcoming series, "Revolution."
Bing: More about Giancarlo Esposito | "Revolution" | "Breaking Bad"
This veteran actor has seen a lot of success since the '70s and even smoked a few Spike Lee joints. But when MSN TV caught up with him, he couldn't say enough about his most recent, wild ride. 

Also: Emmy snubs and surprises | Photos: See this year's Emmy nominees
MSN TV: Congratulations on the Emmy nominations.
Giancarlo Esposito: I'm honored and blessed.
How has the nomination changed your life?
Oh, my goodness, my life is completely different. I [hadn't] realized I'd get the Emmy nomination, that "Breaking Bad" would be so darn huge and that I wouldn't be able to go anywhere! In Wilmington [NC, where "Revolution" tapes], "Breaking Bad" is on basic cable, so I get recognized everywhere. I come back from yoga and run into get some coffee. I have no shirt on, because I'm just soaked through, and people can't believe it's me. They're all young and very cool and hip and want to take photos. I'm like, "Oh my gosh, can we reschedule?"
Is anyone afraid of you?
It's so weird. I got on a plane the other day and this woman was waiting in line for the bathroom. She turned to look over her shoulder and jumped out of her skin. I looked at her face and realized she was frightened. She said, "You go first, Gus." 
Life is certainly different. People call me "sir" now.  
Plus, "Emmy nominee" will always come before your name. Unless you win: Then you'll be Emmy winner Giancarlo!
Oh, I like that! That has a nice ring to it.
Why do you think Gus affected viewers so deeply?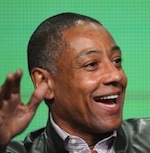 For me, it's the iconic nature of what Gus has become. All the elements came together. That translates to: I got out of the way. I let what was written on the page speak to me. Then I created a template, like I do for every character. I use my gift to figure out how he speaks, to add the accent. With Gus, it was about breathing into a comfortable place that allowed me to be so still I sometimes scared myself! That [character] was a gift that was given to me. 
How did you feel when you saw they used Gus' final moments in the "Breaking Bad" promo?
I felt great, because I love the "Breaking Bad" family, but part of me was like, "Wow, that's my image out there to hype the new season." It's strange, but I give that up. It's not me, anyway. I used to feel that's not fair. When I perform on stage, you have to remember my performance or buy another ticket to the party! In television and film, you can see it over and over again. People have said they've watched that final episode ten times. I'm pleased, but it's a strange thing, what we do as actors.
What was it like to follow up AMC's "Breaking Bad" with "Once Upon a Time," a mainstream ABC series?
I've had an actor's dream of a year. Before I even finished "Breaking Bad," I went to do "Once Upon a Time." Sidney was that lovable guy who was in love with the queen. And don't forget, he's also the Man in the Mirror, which is another character. The genie episode was so powerful. I've always wanted to play that Arabian guy with the curved sword, the turban and the full on beard who has such love for this woman that he lets his own power get away from him. To jump from one character to another that was so vastly different has been a test of my talent and I'm renewed by it. 
Any chance you'll return to "Once Upon a Time"?
Sidney's in the dungeon. It's always a possibility.
Would NBC allow that?
Well, Bob Greenblatt (NBC Entertainment Chairman) is a great guy. I was talking with him about "Revolution" and he was asking me these same questions. He's a bit of a fan too! I said, "My first commitment is you, this network and this show, but if there's a moment where there's a favor to ask, I'd want to ask it so I can fulfill my commitment to the audience." I would love to be able to go back. That show is phenomenal.
These days, you're causing trouble as a Militia captain on "Revolution." How do describe your new series?
It's a grand action adventure series that flips the new world into the old and the old into the new. It's a renewal of old values in a very modern, futuristic society.
Captain Neville is set up as the villain who turns our heroes' world upside down 15 years after the world looses all power and technology: How is Neville different from Gus?
Yes, he's a heavy. Yes, he's very observant of people's vibrations and physicality, but he's also ruthless and brutal in a way that he wants to touch and feel. He doesn't say, "You go do this." He'll do what he has to do. Gus was hands off. He would allow the machine to work. He wanted to bring everyone to their best selves.
Now, I am creating a character who was slightly nebbish before the blackout. He was a company man who did the job. Out of his work as an insurance adjuster, he learned to not trust people, to read body language and to judge. But he was never looked at as having any power. He never thought he'd been in the position he is now. It's delicious.
Do you think he always had this strength in him?
He always had the desire to be bigger than he is. He wanted to be feared, respected and have more gravitas, but he never had the balls to be that person. When the blackout happened, he had a certain skill and cultivated that part of him that dreamed of being a leader of men. He got a bit power and fell in love with it.
Is he a bad guy or a peacekeeper?
He's trying to help people understand that they have to save themselves, but there are rules. He is trying to restore some kind of order. Can you imagine not having the right to bear arms, not having the right to protect your family or yourself? Without him there would be total anarchy.
Could he be pulled to the other side? 

I absolutely think so. He has no problem with doing what he does, which creates a fascinating character who is unpredictable. Neville would be a very good rebel. Is he as bad as you think he is? He may seem to be on the wrong side of the fence, but wait and see.
"Revolution" premieres Monday, Sept. 17, at 10 p.m. ET/PT on NBC.