'General Hospital' Has 'Avengers' Fever
Spinelli and Matt get into an early screening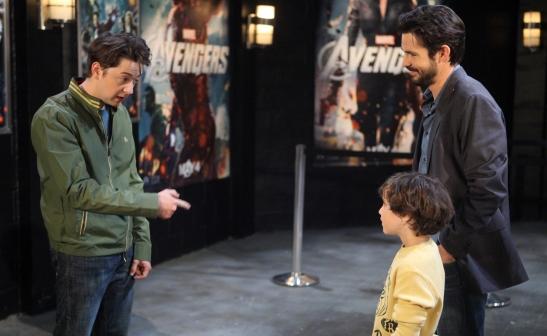 Marvel's "The Avengers" doesn't hit theaters until May 4, but Port Charles has an early screening scheduled. On "General Hospital," Spinelli and Matt will run into each other in a big screen/daytime crossover airing Wednesday, April 25. 
Bing: More about "The Avengers" | "General Hospital"

It's no surprise Spinelli found a way into an early screening of "The Avengers." In spite of his excitement, however, he can't stop contemplating his theory about who killed Lisa Niles. That will lead to some funny twists and turns, à la "The Jackal."

Spinella also bumps into Matt, who's taking Cameron to the screening. Spinelli and Matt started brainstorming about Maxie's predicament together on April 19, but things took a turn when Spinelli suggested Matt's brother Patrick might be the one who killed Lisa. By the end of the conversation, Spinelli began to wonder if it was Matt, himself, who killed her. 

Also: What shows will be returning next season?
It's not clear where the guys stand now, but the run-in does look copacetic in the image above. Perhaps Maxie's men will be able to work together and save her from herself, after all.

Stay tuned.  

"General Hospital" airs weekdays on ABC.