Leslie Knope to meet Joe Biden next week
Vice President to make Poehler-izing cameo for 'Parks and Recreation'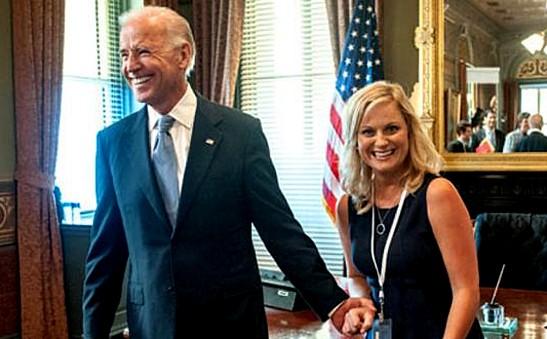 Pawnee City Councilwoman Leslie Knope (Amy Poehler) will get to meet one-half of her ideal man on the Nov. 15 episode of "Parks and Recreation." (Knopes once mentioned that he should have "the brains of George Clooney in the body of Joe Biden.") Ben Wyatt (Adam Scott) will take his fiancée to the White House to meet the Vice President as a surprise engagement present.

Bing: More about 'Parks and Recreation'
According to TV Guide, the segment was filmed in July but had to be kept secret until after the election. (Due to equal-time rules, if news of it was leaked, producers would have had to offer a similar cameo to Republican Vice-Presidential hopeful Paul Ryan.)

In a statement, Biden said his family loves the NBC sitcom, while the show's executive producer called the veep "amazing" and noted that "improvised a couple of things that we ended up using."

Plus: Fall TV report card | TV's dream jobs and co-workers | 'Walking Dead' fantasy draft

According to Slate, a slightly different version of the scene was filmed in case Mitt Romney won Tuesday's presidential election.


"Parks and Recreation" airs Thursdays at 9:30 p.m. ET/PT on NBC.

Equal time rules?  Or else they'd have to offer a similar cameo to Republican VP hopeful Paul Ryan?  Gosh gee, imagine being fair.  After Crazy Uncle Joe's performance during the VP debate I've seen enough.  Maybe if he and the POTUS spent more time governing instead of touring the talk shows... It'll be a fine day when both sides, democrats and republicans, are offered the same treatment instead of what was demonstrated with this election.  Proud to be a Republican.
Are you sure you want to delete this comment?