Soap super couple Ridge and Brooke reunite, sort of
'B&B' stars Katherine Kelly Lang and Ronn Moss in Italian fashion campaign
Ronn Moss' exit
 from "The Bold and the Beautiful" spelled the end of Ridge and Brooke, for now. With the show lagging behind in other countries, however, Moss and Katherine Kelly Lang (Brooke) have reunited for Impero Couture's sexy 2013 campaign in Italy.
Bing: More about "The Bold and the Beautiful" | Katherine Kelly Lang | Ronn Moss
As diehard "The Bold and the Beautiful" fans know, the soap opera is more than just an international success: In certain parts of the world, visiting cast members can inspire complete mania. When "The Bold and the Beautiful" took production to Italy and Australia, for example, they received rock star welcomes and even required security guards to get through the swarms of fans. "The Bold and the Beautiful" cast members often do international glamour shoots and commercials on the side and Moss was also a contestant on Italy's version of "Dancing With the Stars." 
Plus: Shows that are signing off this year | Fantasy 'Real Housewives' cast | Celebrating Black History Month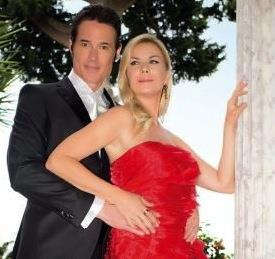 Now, the Italian fashion line Impero Couture has launched a new campaign that clearly sparks on Ridge and Brooke's infamous chemistry, but "The Bold and the Beautiful" has nothing to do with the campaign. In fact, the "Love Story in Capri" mini movie (above) casts Katherine Kelly Lang as "wife," with Ronn Moss playing the mysterious "sailor man" she keeps running into. The pair also modeled the 2013 line and were featured in a behind the scenes video posted on the Impero Couture website.
The campaign might seem out of date to American fans. Ridge and Brooke have been circling each other for decades, but that affair was put on hold when Ronn Moss exited the canvas. These days, Lang's Brooke is flirting with a new disaster - her sister's husband! Italian fans, however, are currently watching episodes that aired 10 months ago in the U.S. The show's most recent Italian getaway, which was shot in Puglia last year, won't begin airing in Italy until April 15.
"The Bold and the Beautiful" airs weekdays on CBS.