Q&A: Theo James and Chi McBride of 'Golden Boy'
New CBS crime drama investigates the price of ambition and success
CBS' new drama "Golden Boy" traces an ambitious cop's journey to becoming the youngest police commissioner in history of the NYPD. Walter Clark's rise will be swift, but his seven years in the homicide division won't be painless. With great power comes great sacrifice. The tale of New York's "Golden Boy" begins to unfold on Tuesday, Feb. 26. 
Bing: More about "Golden Boy" | Watch full episodes and clips
MSN TV sat down with Theo James, known for his short but unforgettable stint as The Turk of "Downton Abbey," and TV veteran Chi McBride to find out what viewers can expect from primetime's newest crime fighting team.
What is "Golden Boy" about?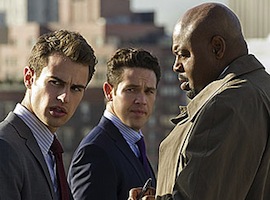 James (Clark): I play a young Turkish prostitute - no! I play Walter Clark, who goes from nothing to being the most powerful man on the police force. He becomes a fairly formidable person. What I love about the show is the difference between the young, naive, ambitious, aggressive and cocky guy with everything at his feet and the quieter person who is broken, both physically and emotionally. It's about Clark's journey and what he loses along the way, and the central relationship is the "Lethal Weapon"/Obi-Wan-Luke​/father-son relationship between him and his partner, Owen.
McBride (Owen): Owen is pretty much a dinosaur in the detective game. He's got two years till retirement and all he wants is to get home everyday without getting shot. These two are like water and electricity. Owen doesn't need the aggravation and Clark doesn't want to be in a cage with an old man, but you watch them become a team. They end up forging a reluctant and then very respectful, close and heartfelt relationship as partners and friends.
At what point does their relationship shift?
McBride: You see Owen open up a bit in the pilot. This kid has got a nose for things and you can see a kernel of good in him, but he's being ruled by his ambition right now. That's what makes Owen bond with him. He knows this kid is going to be a good, but he needs some help, because there's another guy in the squad that's just what Clark could become without the proper guidance.
You're referring to Det. Arroyo (Kevin Alejandro), who seems downright villainous for a homicide detective!
McBride: Arroyo is a slave to his ambition. He's a bull in a china shop.
James: He is a douche and you love to hate him, but he's an interesting one. Kevin brings a psychopathic arrogance to the role, but there's also a quieter layer. There's a weakness and softness to him that is rarely displayed. My character begrudgingly likes him.
The idea of justice and law is a cool part of the show. Should you bend or break the law, plant evidence or screw someone over if it leads to something better? Arroyo believes you can do whatever the hell you want, as long as it's serving a purpose that is vaguely lawful; whereas Owen is about doing it by the book and morality. If you don't have a code, you're screwed. For my character, it's about becoming a man and learning to make good choices.
Can viewers expect these homicide detectives to face the proverbial crimes of the week?
McBride: It is a cop show, so we're going to have to solve some crimes!
James: But this is not a straight procedural. All these stories serve the purpose of the greater story. Also, the procedural element is always intertwined with the personal, so the stakes are higher.
McBride: And the relationships are what make this show move forward and thrive. This story looks at the whole individual, not just what their job is. Clark's family is part of it and Owen has a life outside of work. It's about the chemistry at the precinct, the relationship between Owen and his wife, the relationship Clark starts later in the season and the splintering of the relationship between Arroyo and his partner, McKenzie (Bonnie Somerville). It's going to be interesting, going forward, to see all these characters evolve.
James: My favorite part is the police politics. I find the games people play and corruption quite interesting.
McBride: Just like any workplace, some people are willing to play those games and some people are not. It's an object lesson for both characters. Normally when you see a mentor, he's perfect and by the book. Not so here. Owen is very flawed. He has some skeletons in his closet and when we meet him, he's let the cop in him go dormant, because he's surrendered to some of his own demons and the politics of being a cop. 
The set up in the pilot indicates Owen won't survive Clark's journey. Does that worry you, Chi?
McBride: Things aren't always as they appear....
Theo, you're a bit of a newbie, in spite of boasting impressive credits like your stint as the Turk of "Downton Abbey."
McBride: Oh my god, that's all you hear, man! The guy was on screen for like 20 minutes and they never stop talking about him. That's a testament to how gifted an actor he is.
Now he's the lead in a U.S. crime drama. What is it like to be the center of the action?
James: Sexy! No, it's definitely not sexy. Not yet, anyway. (laughs) I was lucky, because [my costars] were so willing to help me. In the pilot, there's a real parallel between the character and me. He's this young punk turning up to an office with very little experience and working with people who have been doing it for years, and they're like, "What's this guy going to bring?" I'd never done an American TV show, so of course, they were thinking that, as well. That's human nature, but they were really supportive.
In the final scene of the pilot, a reporter foreshadows several dark turns ahead at the precinct. Will we see them all play out this season?
McBride: You're going to see every one: the precinct shoot out, the murder-suicide and how bad things get between Owen and Arroyo.
James: Quite a lot of s--- goes down!
McBride: Wait until you see the finale! I'm excited about that coming around, but there will also be plenty of good stuff that will lead you there. The writing is incredible and and we have a great cast. It's going to make some good television.
"Golden Boy" premieres Tuesday, Feb. 26, and Tuesday, March 5, at 10 p.m. ET/PT on CBS. It then moves to Fridays at 10 p.m. ET/PT.