Chatting With the Cast of 'Hawaii Five-0'
Alex O'Loughlin back in form and ready for McGarrett mama drama and more in Season 3
"Hawaii Five-0" returns for Season 3 with serious finale cliffhangers looming. McGarrett opened the door on Shelburne, who turned out to be his believed-to-be-dead mother, while villainous Frank Delano forced Chin Ho to choose between saving his new wife or his cousin Kono. MSN TV talked to Alex O'Loughlin, Scott Caan, Daniel Dae Kim and guest star Christine Lahti about Monday's season premiere and the new season ahead.
Bing: More about "Hawaii Five-O"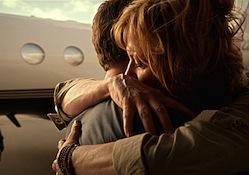 "One thing these guys are really good at is writing a spectacular opening episode of the season, and they've done it again," Alex O'Loughlin (McGarrett) teased. "We start with this huge emotional beat for our protagonist. He meets his mom for the first time in 20 years. There's so much context to this. It's not just, 'Oh my god. I thought you were dead!' It's the fact that she faked her own death."
"It's pretty charged, as you can imagine," Christine Lahti (Doris McGarrett) added. "Steve has a lot of questions and it's up to me to answer them as best I can. The overriding arc [this season] is Steven's past and how to reconcile his mother coming back after 20 years of abandonment."
There is a very different arc ahead for Chin Ho, who starts the season holding his bleeding wife in his arms and will come out of the premiere a changed man. Spoilers have already revealed Kono will somehow survive, which doesn't bode well for the newlyweds.   
Plus: TV shows that could be movies | Fall TV premiere dates
"Chin Ho gets to explore a very dark place," Daniel Dae Kim (Chin Ho) previewed. "You'll see the residual affects of the choice he makes in subsequent episodes."
Amid all the emotional turmoil, the "Hawaii Five-0" crew still has to contend with two villains this week. As Delano's (William Baldwin) plan continues to unfold, Wo Fat (Mark Dacascos) escapes custody.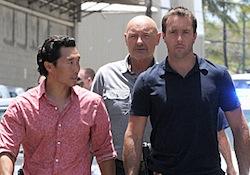 "As bad as William Baldwin's character Delano is, he's got to be dealt with," Kim warned. "Whenever it's personal and something that we can attach to a character, it raises the stakes."
In other words, this is going to be a tense episode, but viewers can still expect the show to maintain its lighter moments. This is, after all, "Hawaii Five-0."
"That's a big part of the show," Kim noted. "Usually you have relationship dramas and crime of the week shows. What's unique about this show is that we get to do elements of both, and we also have comedy moments, like the carguments between McGarrett and Danno in the Camaro."
McGarrett's returned mom even gets in on the carguments. "I loved it," Scott Caan (Danno) raved of working with Lahti, even though Danno gets relegated to the backseat. "Christine's a great actor and it's good to have new people come all the time. To have a guy like my dad, Christine or Terrence Howard come in makes you enjoy your job more."
While there's been no talk of a James Caan return this season, Howard will say Aloha to "Hawaii Five-0" in Episode 5, slated for Oct. 29, along with Ving Rhames, Ed Anser, rapper T.I. and Kardashian kid Kendall Jenner.
"I loved that episode," Caan revealed. "It flashes back to New York 10 years ago. You see how I named my daughter Grace and it all takes place around the World Trade Center bombing."
Arielle Kebbel and Robbie Amell are on tap to guest star in episode 4, while Taryn Manning returns as McGarrett's sister for some mama drama in the following episode 6.
Michelle Borth (Catherine) has also joined the cast full time as McGarrett's girlfriend, though he'll have trouble calling her that. "It's difficult for Steve to let go and trust, and rightly so. Look at the devastation he's come from," O'Loughlin said. "Catherine being on the show full-time will lead to some happiness, discoveries and softness in Steve that he needs. It will be something from which he finds a whole new level of strength."
O'Loughlin Back in Form for Season 3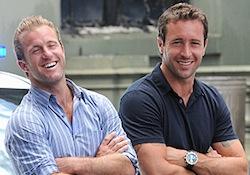 Finding new strength is something O'Loughlin can relate to after last season, which saw him take a hiatus from the show for what his rep called "supervised treatment for prescription pain medication due to a recent shoulder injury." 
"It feels amazing coming back to work," O'Loughlin confided. "Last season was rough for me. Towards the end of it, I got hurt and all the rest of it. That put things in perspective. I've come back with not only a new lease, but also some new realizations. I'm also going to be a father again soon, so all the stuff culminated. We all get knocked down, and those are the moments that define us - How you get up and dust yourself off, and what you do from that point."
One of the big changes O'Loughlin has made for this season is backing off from doing his own stunts, which his costar stopped doing after a knee injury in their first season.
"Scotty's pretty smart with this stuff. I took a few years to smarten up," O'Loughlin said with a laugh. "There's a lot of stunts, a lot of action and a lot required of us. It's taken me 36 years and three shows to learn that it's okay for me to say, 'No, I'm not going to do that.' I stopped drinking and partying years ago, but the stunts were the party for me. And now I've chosen not to do as many. l love it. I'm not getting hurt. I go home to my family. I can work on my house. I'm just relaxed."
The Hawaiian lifestyle helps with that, too. "Hawaii Five-0" often shoots on location and the cast lives and works in a place associated with fantasy beach vacations. That doesn't mean island fever can't hit, however. In fact, six episodes into the season, Caan was clearly feeling it.
"Of course, I like it here," Caan said. "But do I want to go to Hawaii for 9 months of the year? Hell no. I don't want to go anywhere for 9 months of the year! I'm from LA. I have to go home once a month or I go nuts. You miss your friends and your family and the things that make life great."
MSN TV couldn't help but point out with a show as successful as "Hawaii Five-0," he could be stuck on the island for a while. 
"If I could be lucky enough to have our show last ten years or more, that's a really good problem to have," he concluded.
"Hawaii Five-0" premieres Monday, Sept. 24, at 10 p.m. ET/PT on CBS.