'Breaking Bad' Stars Learned How to Cook Up Meth
Bryan Cranston fesses up to Howard Stern about DEA lab sessions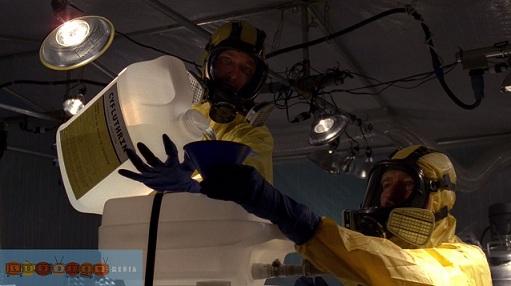 If there's one guy who can still squeeze all the juicy insight from celebrities big and small, it's ageless SiriusXM host/

"America's Got Talent"

judge Howard Stern. Earlier this week, his interviewee was current

"Argo"

ensemble player and award-winning "Breaking Bad" star Bryan Cranston. While ostensibly there to discuss his role in the aforementioned,

Ben Affleck

-directed political thriller, the conversation invariably turned to a certain hit AMC drama about drug manufacture. 




Bing: "Breaking Bad"

 |

Bryan Cranston

 |

Howard Stern




After Stern pressed his guest about whether he and

Aaron Paul

were actually instructed how to cook up crystal meth from scratch themselves, Cranston relented and explained,

"We were taught how to make meth [by] DEA chemists who were our consultants on the show. We didn't cook it, but we were told exactly the process at that high level." As a sort-of PSA against trying this at home, Cranston added, "It's extremely difficult There are so many volatile components to it that at any given time, you could literally blow up. So you had to be very careful and very specific to follow this. Most of the cooks are also meth heads themselves. That's why they get themselves in trouble and you see burn marks, or their hands are missing."

 

 

Stern, naturally, refused to believe Cranston hasn't produced a genuine batch of the blue stuff, leading to the actor to quip, "Well, I made one with and one without nuts. I was a pretty good chef."




And, apparently, a pretty clever dodger of PR disasters.




"Breaking Bad" Season 5 will return in July 2013 on AMC.