'Smash' Continues to Solidify Cast
Leslie Odom gets 'regular' status while Katharine McPhee finds a new roommate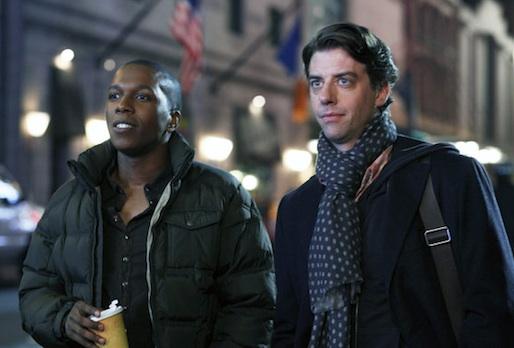 While most of us spent the post-holiday weekend suntanning or lounging in the cool reassurance of central air conditioning, the folks behind NBC's problematic musical-drama "Smash" were continuing to right their wayward ship. 
First came
Deadline's report
that Leslie Odom Jr., who played Broadway dancer Sam (in addition to Ivy's BFF, Tom's boyfriend and one of the show's few decent-hearted souls), is getting a promotion to series regular for Season 2. Then, Deadline and other outlets including
Entertainment Weekly
 leaked the scoop that, in lieu of a fiance, Katharine McPhee's Karen acquires "spunky" new roomate Ana, portrayed by actual Broadway vet Krysta Rodriguez. Rodriguez' theater background tells us Ana will likely share Karen's penchant for spontaneously interrupting real conversation with schematic vocal outbursts. 
Bing: The brows of summer | Also: Summer TV report card

This rounds out (for now) a busy spring and summer thus far for "Smash," which also recently announced the blockbuster addition of
Jennifer Hudson
. Whether these alterations, along with the presence of new Executive Producer
Josh Safran
, make its return even marginally more watchable is anyone's guess. But as they say on the Great White Way, that's why major networks drain tremendous resources on 13 episodes twice annually to find out.
"Smash" Season 2 premieres at a TBD date this fall on NBC.

I agree with Cyndid3. Smash was GREAT! Hubby and I both thought it to be the most entertaining new show on in YEARS. I absolutely do not understand the nasty comment about it being more 'watchable'. We and most of our freinds could not wait for it to come on. LOVED, love, loved it. K M is phenominal at the least, right along with the rest of the marvelous cast. Someone's had sour grapes me thinks.
I think JH will be a great addition

I just hate the negative tone of this "story".  If your goal was to report new casting details, then do just that.  There is no need to be snarky and interject your personal opinions on the show's content.  I have an extensive background in musical and dramatic theatre.  I found the first season of "Smash" to be wildly watchable and elegantly entertaining.  However, I find the comments/opinions of this writer to be marginally readable. 
Are you sure you want to delete this comment?