Kelly Sullivan Is a Woman Divided on 'General Hospital'
Actress discusses the showdown between Kate and Connie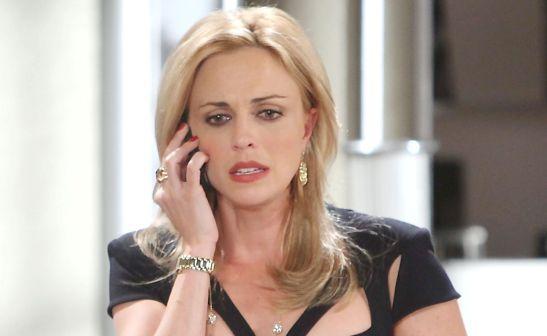 Kate has finally figured out she has an alternate personality wreaking havoc on "General Hospital," which means Connie is going to have to step up her game. Portrayer Kelly Sullivan considers the battle Kate and Connie are waging over her body, previews the wild showdown ahead and talks about assuming the role created by Megan Ward.

Bing: Watch clips and episodes of 'General Hospital'
MSN TV: How is life as a split personality treating you?
Kelly Sullivan: It's awesome. When I get my scripts, I can't wait to see what mischief I'm up to. I've been doing the most insane, exciting things and it's all culminating. It's coming to a head soon, and even now, I'm not sure where the writers are going to take this story. That, to me, is great storytelling.

What do you think pushed Kate over the edge?

DID (Dissociative identity disorder) stems from past trauma. We spent a bit of time talking about these issues she's never dealt with, regarding her family and her choice to run away and create this whole new reality for herself. Kate is her worst enemy in some ways. With her resistance to violence and guns, she's now neck deep in it again with Sonny. She loves this man so much, but she also has to marry into is his life.

Connie sees Johnny as a means to getting Kate out of Sonny's world, but isn't she just putting herself smack in the middle of that violence?
Exactly. If Connie was more stable, she would go about this in a different way than going to Sonny's worst enemy and inciting a mob war. It's hysterical. Connie is so determined to save herself and Kate that she'll probably do it with anyone that's willing – So why not just go for the postman?

How will things change now that Kate knows about Connie?
What's cool is that Kate doesn't have any awareness of what happens when Connie comes out, but Connie knows all. The way they were dropping these hints, like the lipstick, it's been fun to put the pieces together, slowly. The first time Ewen told her, she said, "You're crazy." Now, Kate's embracing it and trying to figure it out. With people who have this disease, a lot of the therapy and rehabilitation comes with hypnosis. The therapist is able to suss out what the alters want and talk to them. Unfortunately, when Ewen brings Connie out, she's so strong she's going to overpower him, in a sense. [The week of April 2] Kate wants him to hypnotize her again and it doesn't go well. She's not one to sit around and talk!
Connie's also going to start coming out to more people. That's when it gets really exciting. The responses are almost more interesting than what's going on with her. We're going to see some instances when Connie tries to fool people, and that never goes well. She doesn't do the best job.
 
Will Kate and Connie ever meet?
Soon. Without giving too much away, the episode between Kate and Connie is chilling. I call it my Gollum scenes from "Lord of the Rings," when he's having his moment on the log as Gollum and Smeagol. It's just so cool.

Connie always says how much of a fool Kate is and she feels many things about Kate that aren't positive, but she loves Kate and wants to help her. Ultimately, it's about finding out who's stronger. Connie is going to try to overpower Kate and take them over. "Just have a seat, and let me do this." Kate's going to have to find the strength to stop her, which is a beautiful story.
Do you think Connie could win?
Connie's not going to give us easily, but Kate has a life and career she's established in Port Charles. She's a strong woman. There's no victims here. With a sickness like this, the host personality is a bit of a victim, in the sense that she doesn't have control, but Kate is very strong-willed. It's more interesting, because Connie is so strong and determined that Kate has to step it up, too. You have to believe, as a viewer, that either one of them can win this battle.
Are you rooting for either of them?

I used to think I was Team Kate, but now I don't know! Connie's a broad and I always root for the underdog, the misunderstood person - Connie's not just "evil." She has a right to feel the way she does. She's hurt and scared. And also overtly sexual! (laughs) Kate is such an awesome character, but I have so much fun playing Connie. She comes from the gut. She's raw. She doesn't apologize for herself. She's just out there. But I love Maurice [Benard, Sonny] and the Kate/Sonny love story. I don't see how Connie and Sonny could work it out. Maybe if Kate and Connie merged...

Kate and her relationship with Sonny have always been very polarizing topics among "GH" fans. What was it like coming into this role as a recast and how has this new storyline affected your relationship with fans?
Recasting is never easy, for any party involved. Megan [Ward] created the role and set the bar very high. To be able to come in after that is the highest compliment, because she is an incredible actress. She established a strong presence and essence of the character. A lot of her fans were resistant, but it's different now, because we started recreating something that is mine. People have said on twitter and other places, "This is so interesting, where you're storyline's going. I see now why you were cast and what you bring to it." You'll always have the fans who will say, "No, this is not Kate!" But hopefully, as this storyline keeps getting more interesting and crazy, more people will get on board and just have fun. It's all about bringing people in for the common cause of "General Hospital." If I can do that at all, I love that. That's all I want.
(Image courtesy of JPI) 
"General Hospital" airs weekdays on ABC.