Heather Morris Works It With 'Nuthin' But a Glee Thang'
Heather Morris and 'Glee' pals get down and dirty in their new Funny Or Die viral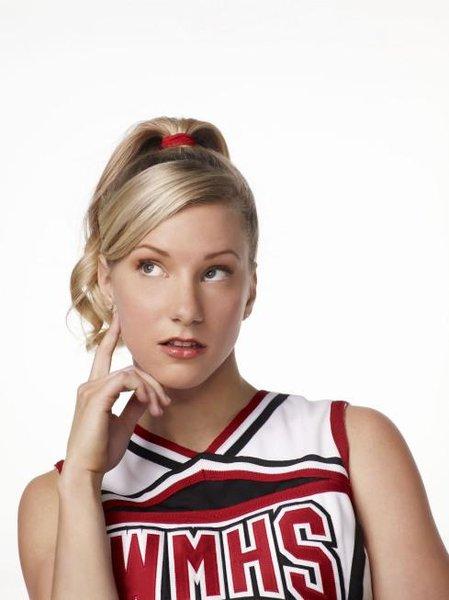 Okay, so the real breakout star on
"Glee"
? I think we all agree at this point that
Heather Morris
, who plays Brittany, steals the show every time. Be it her deadpan ditziness or those sizzling dance moves, she's got us wanting to give her all the star solos.
Now she's taking the badass behavior one step further with the
Funny Or Die
video "Nuthin' But a 'Glee' Thang," a kickin' take on Dr. Dre's classic "Ain't Nuthin' But a G Thang" -- complete with cameos from "Modern Family" star
Sophia Vergara
and slew of "Glee" mates, including Matt Morrison, Naya Rivera, Corey Monteith, and Harry Shrum. 
Morris penned the catchy riff with pals Ashley Lendzion, a writer-actress who's done shorts and small turn in "He's Just Not That Into You," and Riki Lindhome, whom you may recall from turns on "Gilmore Girls" and "House," or the film "Last House on the Left."
Vergara rocks a Sue Sylvester tribute track suit in the video, but confesses to the camera that her real "Glee" love is Heather herself. "Comparing Jane to the rest of the cast is like comparing the great barrier reef to dog shit," she says on the one hand, before noting in secret that she doesn't want Heather to know of her love because "I don't want her to think I'm just a crazy fan who doesn't know the difference between TV and reality." 
Yup, cue the musical number, which talks about crazy Gleeks stalking Matt Morrison (Mr. Schue), Naya Rivera (Santana) and Corey Monteith (Finn), who, in keeping with character (or perhaps reality), can't dance even in this video. There are some classic lines, like the following:
"Ain't nuthin but a Glee thang baby/ Matt Morrison's abs drive me crazy/ Tried to make him mine/ Cops had to taze me/ Undeniable/ This isn't going to faze me."
But the best is the completely random reference to cream-cicles (which, yes, are delicious), and an unexpected-yet-fun "Gossip Girl" kiss-off. Take a look:
Which "Glee" cast member are you most likely to stalk?