'Breaking Bad' scoop: 'Hank-centric' return
Star Dean Norris pleaded for his character's death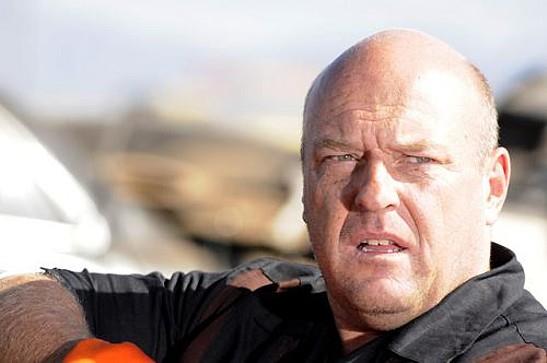 Pleading for your life is common in "Breaking Bad." But out of character, it's death that one star of the Emmy-clobbering show pleaded for.


Dean Norris, who plays DEA agent Hank, accepted the lead in a promising comedy pilot, the star told Canada's National Post. But he was forced to pull out when "Breaking Bad" creator Vince Gilligan announced that Season 5 would be cleaved into two halves separated in their production schedules by nearly a year. (Norris' plan was to shoot the pilot, knock off the 16 remaining "Breaking Bad" episodes, then shoot the series if the sitcom was picked up.)


Norris said he called Gilligan and asked: "Hey man, maybe Hank should die in the first eight? Wouldn't that be a great ending?"


Obviously, Gilligan didn't agree, since we last saw Hank having a major revelation about his brother-in-law on the toilet. However, Norris did receive a consolation prize. He described the final episodes as the most "Hank-centric" yet. And if they live up to the hype, Norris should have plenty more pilot offers -- although probably not from the same production company that he screwed over.


P.S. For all you wannabe Hanks out there, yes, by describing the final episodes (plural) as Hank-centric, Norris basically admitted that his character probably won't die until at least the fourth episode -- if he even does.


"Breaking Bad's" final eight episodes will air this summer on AMC.

They shoulda killed him off in the car accident Walter and he had in the Aztek (when they were heading to Fring's lab at the laundry).
Then we would've missed seeing Marie bury him in a purple casket--
I'm waiting to see Skylar have another meltdown--this time 'cuz Walter Jr. (Flynn?) gets caught doin' blue meth
We need to have a season 6 also
Are you sure you want to delete this comment?