One to Watch: 'Jane by Design' Spring Finale
The ABC Family hit ends its spring run with haute drama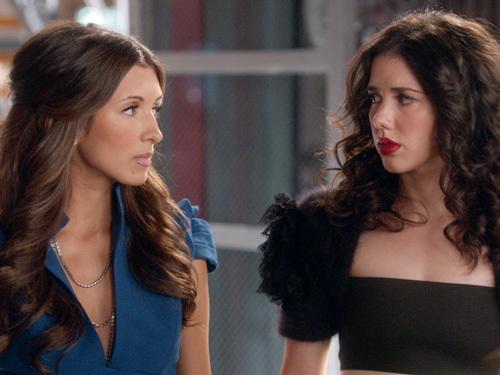 OK, so this season's guiltiest pleasure? Presuming you're not a teenage girl, it would have to be ABC Family's stylish new teen dramedy "Jane By Design." 

The show is a frothy and fun take on the "Devil Wears Prada" by way of "Don't Tell Mom the Babysitter's Dead." The Tuesday night hit centers on otherwise-awkward by fashion-forward high schooler Jane's venture into the city for an internship that turned out to be a real career-making job -- assisting the "Devil"-ish design exec Gray Chandle Murray, played by Andie McDowell. 
As for the "Don't Tell Mom" reference, creator April Blair denies borrowing from the 1991 Christina Applegate teen comedy. "I haven't ever actually seen the film," says Blair, who previously penned teen-friendly film fare like "Monte Carlo" and "Major Movie Star." "But everyone keeps mentioning it, so maybe I should check it out." 
Either way, the show easily outshines the cult classic -- putting the focus where it belongs: on romance. And it all rests on the slender shoulders of newbie Erica Dasher (who previously starred only on the WB.com's "The Lake") as the titular Jane. "Yeah, with heartthrob Nick, best pal Billy and Jeremy at work, Jane's definitely got her hands full," says Blair. "And we'll see the fall out of that really start to develop with tonight's episode."
Blair reveals that Jane will quickly find out about almost-boyfriend Nick's (Matthew Atkinson) dalliance with popular girl nemesis, Lulu (Meagan Tandy). "They're playing it up all dramatic in the promos, but that happens pretty quickly in tonight's episode," says Blair. "The real drama comes in where Billy gets in trouble with the law. There's plenty of reason to worry about Billy, given his family history -- and he really needs Jane's help. Will she pull through for him like he always does for her?"
The turn-around will definitely mark the beginning of the
will-they-or-won't-t​hey
drama for Jane and Billy's (Nick Roux) friendship. "There are a lot of people rooting for that, so obviously it's something we've thought about," says Blair. "I mean, they're clearly meant for each other. But it can't happen just yet. We need to build that up, to let the audience want that."
Plus, there's still Nick and Jeremy (Rowly Dennis) to play with. And there's the fact that her older brother Ben (David Clayton Rogers) is finally on to her big secret -- and may make her quit her career-making job by Donovan Decker before the night is through. "Ben's just worried about Jane," says Blair. "He means well. He wants her to have a happy high school life. He's trying to be a good guardian."
But Jane lives for her new gig and -- SPOILER ALERT -- we'll definitely see more of that when the show returns early this summer. "This is Jane's dream and she's holding on with both hands," says Blair. "It's really what she wants to do. So we'll see her really go for and give it her all -- not just what she's wearing or what she'll contribute in the future, but where her real passion lies." 
And that means big-time drama with her work nemesis, India (India DeBeaufort). "Sparks are really going to fly between the two of them," says Blair, "starting tonight. I'm talking a major cliffhanger -- something that will keep you guessing till this summer."
Here's a sneak peek at Wednesday night's finale:
Catch the "Jane By Design" spring finale Wednesday, March 7, at 9 p.m. ET/PT on ABC Family.
Are you sure you want to delete this comment?