'Battlestar Galactica' prequel release set
'Blood & Chrome' finally scores multi-platform release on TV, DVD and the web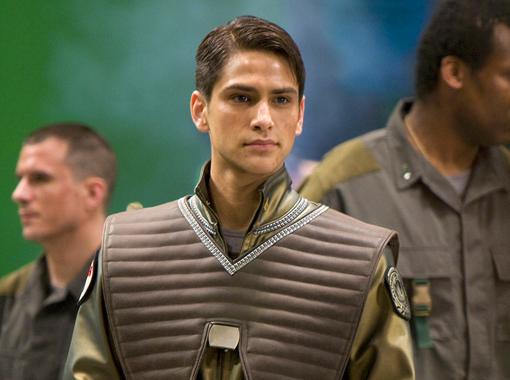 Fans of the Syfy hit "Battlestar Galactica" have been eagerly awaiting the release of its prequel, "Blood & Chrome," which has faced countless delays in both production and scheduling.
But this week, after more than two years in gestation,
Entertainment Weekly reports
that the "B&C" will finally see the light of day -- and it's set to air in a multi-format roll-out beginning this Friday.
Step one: the original two-hour pilot/TV movie gets gets a serialized release on the YouTube channel 
Machinima Prime
 starting this week, with 10 7 to 12-minute segments released over the course of four weeks. Episodes one and two premiere Friday, Nov. 9.  
Step two: Syfy airs the actual two-hour pilot as a TV movie early next year.
Step three: The two-hour "Blood & Chrome" movie gets released on DVD.
The CGI-driven prequel, set during the first Cylon War, will center on William Adama (Luke Pasqualino, from the UK's "Skins"),  a young soldier who finds himself challenging his co-pilot, veteran officer Coker (Ben Cotton, "Alcatraz").

"With its top-notch storytelling, pulse-pounding action and cutting-edge visual effects, 'Blood & Chrome' is the perfect expansion of the 'Battlestar Galactica' universe," Syfy programming president Mark Stern said in a statement. "We're thrilled to see this hotly-anticipated event premiere on Machinima, an online network that is unparalleled in its delivery of high-class digital content to millions of viewers."
Can't wait till Friday? Check out the sneak peek right here:
Are you sure you want to delete this comment?