Marie Osmond's Talk Show Ready to Launch
What to expect from Hallmark's new but familiar daytime host
Marie Osmond launches her new daytime talk show on Hallmark Monday, Oct. 1, with a visit from Betty White. "Marie" promises lots of laughter, fun and great musical performances, but that doesn't mean it will hide from serious issues. 
Bing: More on Marie Osmond | Betty White

"We [want] to bring some hope and have some laughs," Osmond recently told TV Guide. "We'll talk about the tough stuff, too. I'm been through a lot. More than you know. I'm writing a book about it right now. But always I'm here to entertain and keep it clean. Hallmark knows what they're getting with me. [Laughs] If I was going to change, I'd have done it decades ago."
"We also want to be informational," she added. "We'll show women how to save money, get through a divorce, get back into the dating scene. It's not the good things in life that define who we are, it's how we handle the difficult ones. I want to help other women rise to the challenges in life. As women we should complete each other, not compete with each other."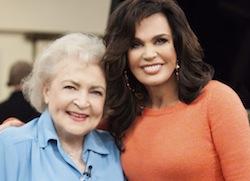 Osmond's first week of guests include Betty White, who will demonstrate doggy yoga, as well as Maiara Walsh ("Switched at Birth"), Fran Drescher ("Happily Divorced"), Melody Thomas Scott ("The Young and The Restless") and Marissa Jaret Winokur ("Retired at 35"). Plus, former "The Bold and the Beautiful" star Ron Moss and his wife Devin DeVasquez will perform "Baby, Come Back." And "So You Think You Can Dance" finalist Courtney Galiano will take the stage.
"Marie" has connections with celebrities from all over the map, but her guests won't always be recognizable. 
Plus: TV women who need to be saved | 11 of TV's scariest series
"One thing we're doing is taking a cue from the old 'Tonight Show' and booking great up-and-comers -- singers, comics, actors who will be the next big thing," she told TV Guide. "When we did the 'Donny & Marie' talk show (1998 to 2000) we debuted Britney Spears, Christina Aguilera, even J.K. Rowling. I love bringing on new people and saying we had 'em first."
"Marie" airs weekdays at 12 p.m. ET/PT on Hallmark.