Regis Philbin Joins 'The Rachael Ray Show'
Former 'Live!' star lands monthly guest spot on daytime talk show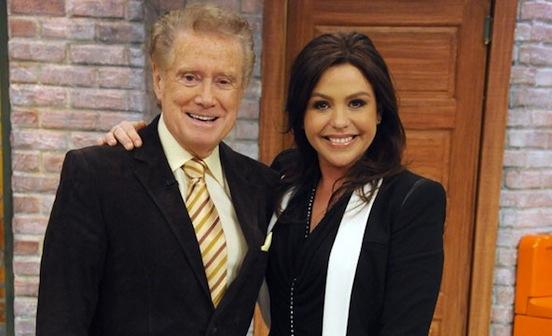 Almost a year after leaving his post at "Live! With Regis and Kelly," Regis Philbin has landed a monthly gig with "The Rachael Ray Show." He'll be also returning to romance Betty White in the "Hot in Cleveland" premiere. 
Bing: More about Regis Philbin |  "The Rachael Ray Show"
"I can't tell you how excited I am that Regis will be a recurring special guest on our show this season," Ray said in a statement. "Regis has been a close friend of the show and a close friend of mine for years and it'll be a blast having him on the team."

"I'm not a co-host, I'm just a guy showing up on her show once a month," Philbin told
USA Today
. "I love the idea. It's fun to be back on TV when you don't have to do it every day. I'm not gonna say I don't want to do your show! I think it's fun. I spent my whole life doing this."
What he didn't spend his life doing was cooking, so he's not likely to get in on many cooking segments with Ray, unless she gives him a lesson. "I can make a sandwich. Two pieces of bread and you lay a little cheese or something on there. Add some mustard. Bang! I've made some lunch!" he quipped. "I would love to let her teach me [so] that I could cook here at home and really surprise my wife."
As for Philbin's take on the newly launched "Live! With Kelly and Michael," he says he hasn't seen it, because he's started sleeping in for the first time in his life. (Apparently, he doesn't have TiVo.) 
"I like Strahan a lot. I've known him for years," Philbin said. "He was a Giant here - in many ways. Had a big following with the New York Giants. He's very funny. He's got a great sense of humor. I haven't seen too much of the show. I haven't seen the opening. How is it?"

The former talk show king, who holds the Guinness World Record for the "Most Hours on U.S. Television," will return to daytime on Monday's episode of "The Rachael Ray Show."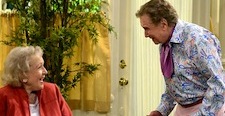 He will also back on "Hot in Cleveland" as Betty White's love interest for the season premiere, set for Nov. 28.  
"The last show was when Betty White discovered me, and I discovered her," Phibin told USA Today. "Everybody thinks I'm gay, and Betty White appeals to me."

"The Rachael Ray Show" airs weekdays in syndication.