No More 'Office' Visits for Michael Scott
Steve Carell squashes any hopes of a return to Scranton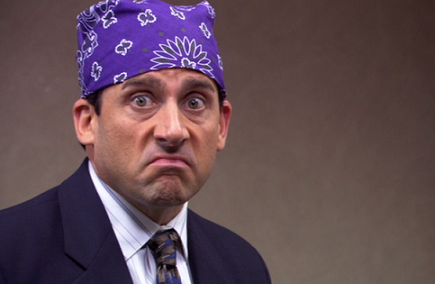 Way back in classic Season 3 "Office" episode "The Convict," "Prison Mike" Scott (pictured above, as you may have guessed) reminded us that mild-mannered Dunder Mifflin regional executive Michael Scott isn't just fun and games. When he puts on a purple do-rag and speaks in bastardized slang, he means what he says. 
The same goes for his off-screen counterpart, Steve Carell, during interviews with
the Los Angeles Times
. In yesterday's edition of the Left Coast paper, while fielding questions about his new movie,
"Seeking a Friend for the End of the World"
(which could also double as a
Fiona Apple
album title), Carell was asked if he'd be making any further guest appearances on "The Office." Clearly thrilled to be discussing a job he left amicably to pursue other ventures more than a year ago, Carell plainly states, "No, it hasn't been discussed."
Plus: Fired TV actors | Also: Prime-time soaps: Then and now | Here comes the pride
He does proceed to rhetorically inquire,  "Do you really think that people want to see Michael Scott again?" before adding assuredly, "I think the people who say they want to see Michael Scott reappear would be ultimately slightly disappointed. I think you always wish for something that you don't sincerely want to come true. And I think in a way it's better to imagine where Michael and Holly are at this point than actually see it."
Considering the fictional couple's penchant for PDA, he's probably got a point:
"The Office" Season 9 premieres Thursday, Sept. 20, at 9 p.m. ET/PT on NBC.

I wouldn't say he "squashed hopes," but I do think he's right in stating that the fans would be disappointed in an MS return, because you can't please everyone and God knows there'd be high expectations if this ever happened. I am glad to read, however, that he was "thrilled" to be discussing "The Office." I'm a fan of Steve, and I attribute that to starting with his portrayal of Michael. 
Are you sure you want to delete this comment?