Look who's talking in daytime: Dec. 17 to Dec. 21
Movie buzz, plus Cee Lo, One Direction, Bruno Mars, Alicia Keys and more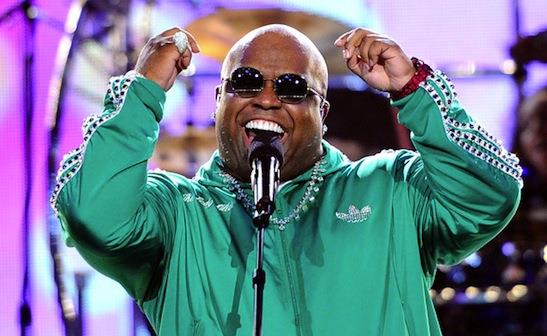 'Tis the season for blockbuster movies and hot new music, so movie mayhem and rocking performances take over daytime the week of Dec. 17. You can also expect a healthy dose of annual retrospectives and experts talking cooking, decorating and gifting; while the tragic elementary school shooting in Newtown, Conn., will continue to be a pressing topic. Look for performances from Cee Lo Green, One Direction, Bruno Mars, Alicia Keys, Christina Perri, Richard Marx, "The Voice" winner, Karmin, Mario Cantone, Daniel Emmet, The Pentatonix, "Disney On Ice: Rockin' Ever After" stars and "Annie" star Lilla Crawford. Big screen stars making the rounds include Anne Hathaway, Hugh Jackman, Eddie Redmayne ("Les Miserables"), Judd Apatow, Leslie Mann, Paul Rudd, Megan Fox and Albert Brooks ("This Is 40"), Jamie Foxx, Samuel L. Jackson and Christoph Waltz ("Django Unchained"); Robert Pattinson and Taylor Lautner ("The Twilight Saga: Breaking Dawn - Part 2"); Seth Rogen ("The Guilt Trip"); Bette Midler, Billy Crystal and Bailee Madison ("Parental Guidance"); Bradley Cooper ("Silver Linings Playbook"); Rosemarie Dewitt  ("Promised Land"); Brad Garrett ("Not Fade Away"); Gina Gershon ("Killer Joe"); Naomi Watts and Maria Belon ("The Impossible"); Alan Cumming ("Any Day Now"); and Richard Gere ("Arbitrage"). 
Bing: More Daytime TV news | Cee Lo Green
The "Downton Abbey" cast is making another stop in daytime, along with cast members from "NCIS: Los Angeles," "Private Practice," "Drop Dead Diva," "Body of Proof," "Switched at Birth," "Hot in Cleveland,"  "Guys With Kids," "How to Live with Your Parents for the Rest of Your Life," "Shahs of Sunset," "The Real Housewives of Atlanta," "Project Runway All Stars," "The Face," "Hideous Houses" and "Teen Trouble." Regis Philbin, Melissa Rycroft, Carnie Wilson, Rosie Perez, Chris Cuomo, Judy Gold, Stacy London and Barbara Lee Edwards get into the co-hosting game. Other notables include Michelle Obama, John Travolta and Olivia Newton, Jenny McCarthy, Guy Fieri, Holly Robinson Peete, Cindy Lauper, Jennifer Tilly, Perez Hilton, Time's Person of the Year and Winner of Miss Universe.
Plus: TV's biggest teen queens | Holiday viewing guide | Memorable moments of 2012
Schedules are subject to change
"Anderson"
Mon: Co-host Stacy London; Scam Alert: Extreme Identity Theft
Tue: Co-host Judy Gold; headlines, celebrity/pop culture news, breaking news and unpredictable surprises
Wed: Co-host Jane Seymour; Limb Lengthening controversy; A baby born with heart outside her body
Thurs: Co-host Rosie Perez; Hugh Bonneville, Elizabeth McGovern, Joanne Froggatt, Rob James-Collier, Sophie Mcshera and Jim Carter
Fri: TBA
"Ellen"
* 12 Days Of Giveaways continues
Mon: Anne Hathaway; Cee Lo Green talks and performs
Tue: Bradley Cooper; Bruno Mars talks and performs
Wed: Megan Fox, Eddie Redmayne, Bethenny Frankel
Thurs: Jamie Foxx, Rosemarie Dewitt; One Direction performs
Fri: Robert Pattinson and Taylor Lautner, Kirstie Alley
"Good Morning America"
* 12 Days Of Cooking continues
Mon: Olivia Newton John and John Travolta, Paul Rudd, eating right at holiday parties, Chef Sara Moulton
Tue: Leslie Mann, chef Daniel Humm with favorite holiday recipes; Karmin performs
Wed: Katie Couric, mega holiday Deals and Steals, chef Rocco DiSpirito's holiday cooking; Tamar Braxton performs
Thurs: Albert Brooks, last minute tips for shipping gifts, highlights from 2012, "Top Chef Masters" winner Chris Cosentino's holiday cooking
Fri: Christiane Amanpour, Danny Boome cooks the anchors' favorite holiday foods, favorite moments of 2012, Chef Emeril Lagasse grants a holiday wish
"Jeff Probst Show"
Mon: Helio Castroneves talks and performs with Chelsie Hightower, Eric Roberts
Tue: Danica Patrick, Youtube sensation Jia Jiang
Wed: Dominique Moceanu                                
Thurs: "Shahs of Sunset" cast
Fri: Hugh Jackman
"Katie"
Mon: Sandy Hook Elementary memorial episode
Tue: Hugh Jackman
Wed: On location in Hoboken, New Jersey for Rebuilding After Sandy; special guests bring surprises   
Thurs: Billy Crystal and Bette Midler
Fri: Olivia Newton John
"Live! With Kelly and Michael"
Mon: Paul Rudd, Christoph Waltz, holiday etiquette with Lizzie Post
Tue: Seth Rogen; "Annie" star Lilla Crawford performs
Wed: John Travolta and Olivia Newton; gift-wrapping tips
Thurs: Samuel L. Jackson, gift wrapping tips; "The Voice" winner performs
Fri: Richard Gere, the Love Chef; stars from "Disney On Ice: Rockin' Ever After" perform
"Marie"
Mon: Charles Shaughnessy, Eric Stromer, April Bowlby
Tue: Suzanne Somers, chef Devin Alexander; piano prodigy Ethan Bortnick talks and performs
Wed: (repeat) Joey Lawrence, Chris "The Toy Guy" Byrne, Marley Majcher; Marie Osmond performs
Thurs: Teri Polo; Richard Marx performs with Marie
Fri: (repeat) Windell Middlebrooks
"Rachael Ray Show"
Mon: Co-host Regis Philbin; Hurricane Sandy Recipe for Recovery show; Katherine Jenkins performs
Tue: Nate Berkus, Sarah Chalke
Wed: Sunny Anderson, food gift ideas and holiday decorating                                
Thurs: Jenny McCarthy, Guy Fieri
Fri: Top 10 Recipes of 2012
"Ricki Lake"
Mon: Dr. Wendy Walsh gives wakeup calls to a gang member, a spenda-holic and a gold digger
Tue: Investigating divorced
Wed: Perez Hilton; reality stars Tanya Young Williams, Aubrey O'Day and Eric Nies
Thurs: Marilu Henner, Anna Trebunskaya, Chippendale Dancers; Lee Dewyze performs
Fri: Today's modern family
"The Talk"
* Daily December Giveaways continue with "Bold and the Beautiful" hunk Texas Battle
Mon: Co-host Carnie Wilson; Nate Berkus holiday design tips, Tempestt Bledsoe, Renee Felice Smith and Barrett Foa 
Tue: Jaret Winokur, numerologist Glynis McCants; The Pentatonix perform
Wed: Valerie Bertinelli, Cindy Lauper, holiday home design
Thurs: Co-host Carnie Wilson; Jennifer Tilly, holiday fashion and style
Fri: Co-host Carnie Wilson; Marlee Matlin, holiday money-saving tips
"Today"
Mon: Samuel L. Jackson, Robert Duvall, John Cena
Tue: Seth Rogen, Billy Crystal, Most viewed YouTube videos of the year
Wed: Time's Person of the Year, Michelle Obama, Richard Gere; Richard Marx performs
Thurs: Winner of Miss Universe contest, winner of "The Voice," Leslie Mann; Cee Lo Green performs
Fri: Judd Apatow, Giada DeLaurentiis, Johhny Weir; Christina Perri performs
"The View"
Mon: Kadee Strickland; "Family Time Together" contest winner announced
Tue: Judd Apatow and wife Leslie Mann; Alicia Keys performs
Wed: Co-host Melissa Rycroft; Brad Garrett, Marlo Thomas, Sabrina Soto's tips holiday gift wrapping
Thurs: Bette Midler, Billy Crystal and Bailee Madison; Dr. Doris Day debunks beauty myths
Fri: Co-host Chris Cuomo; Naomi Watts and Maria Belon; Mario Cantone performs
"The Wendy Williams Show"
* 3rd annual Wendy's Holiday Gift Grab continues
Mon: Nigel Barker, Porsha Stewart: Daniel Emmet performs
Tue: Alan Cumming, holiday looks for a fraction of the price
Wed: Isaac Mizrahi, 2013 celebrity relationship predictions
Thurs: Nicole Lapin, Penn Jillette and Sue Simmons; super stylish holiday gifts
Fri: Holly Robinson Peete