Chad Coleman talks 'The Walking Dead'
Former 'Wire' star discusses his casting as Tyreese, the mid-season finale and more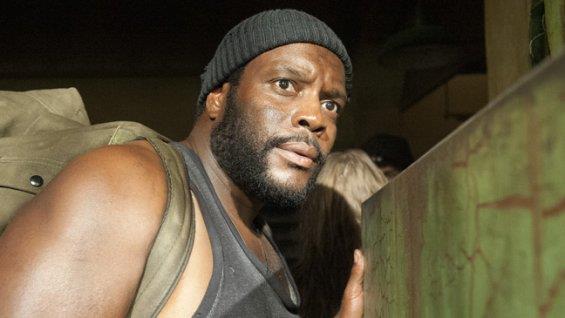 There's not a lot Chad Coleman can tell you about Season 3 of "The Walking Dead." The man wants to stay employed, after all. 
But the actor, who made his debut as fan-favorite Tyreese during Sunday's mid-season finale, doesn't mind talking about how he got the role, how this zombie hit and his old HBO show, "The Wire," are similar and some general things fans can expect.
Bing: More on 'The Walking Dead' | Chad Coleman | 'The Wire'
For instance, Coleman, who is best known for his role as Cutty on the seminal drama, is playing Tyreese because Robert Kirkman, the creator and one of the series' executive producers, enjoyed Coleman's work on "The Wire."
"Robert Kirkman was a huge fan of 'The Wire,'" Coleman said during a teleconference Monday. "Unbeknownst to me, my agents had been talking to (him) for a while."
Plus: Goriest 'Walking Dead' moments, Season 3 | 'Walking Dead' fantasy draft

Coleman said fans also played a role when they recommended he play Tyreese on numerous fan sites long before Season 3 had begun. "For those folks leading the online charge, you're going to be incredibly proud," he said.
Fans may have also noticed Coleman's Tyreese is considerably different than the comic-book version. For starters, the original is a lone wolf. The TV Tyreese has a sister, Sasha (Sonequa Martin-Green, "NYC 22") and friends, Allen (Daniel Thomas May) and Allen's son, Ben (Tyler Chase), who were all a part of a larger group similar to the show's main characters. Both versions of Tyreese are humanitarians and former football players.
When asked how "The Walking Dead" is similar to "The Wire," Coleman laughed and said he's more winded on "The Walking Dead." He also said his current co-stars are already teasing him because he constantly compares the two dramas.
"There are similarities between the intelligence and creativity of the actors and the producers and the artistic integrity," Coleman said. "Both deal with questions of life and death and violence. Like 'The Wire,' this (show) is Filet mignon. You don't get that a lot."
Coleman could not answer questions about Tyreese and Rick (Andrew Lincoln) working together or Tyreese possibly having romantic relationships with Carol (Melissa McBride) and Michonne (Danai Gurira) the way he does in the comic book, but Coleman did say he welcomes the possibilities.
"That would make for some meaty exchanges," said Coleman, who will appear in five of the final eight episodes when "The Walking Dead" returns in February. "You're going to find out more about his relationship with Sasha and Allen. Get ready. It's a hell of a ride."
"The Walking Dead" Season 3 returns Sunday, Feb. 10, at 9 p.m. ET/PT on AMC.