Talking With Monica Potter
'Parenthood' star spills on her character's life-altering breast cancer diagnosis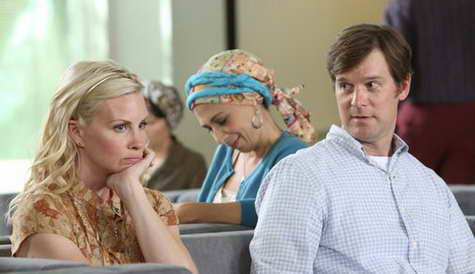 This season on "Parenthood," the sprawling Braverman clan is going to face some of its biggest challenges -- and heartaches -- yet. Case in point? Monica Potter's Kristina faces a life-altering breast cancer diagnosis. We caught up with the actress to chat about her emotional new storyline, dealing with Asperger's on-screen, and her TV husband. 

MSN TV: Producer Jason Katims is drawing from his own wife's experience with the breast cancer storyline. How did it come up?

Monica Potter: I was on board -- I actually emailed Jason over the summer. I went for my first mammogram in April, and I just had mentioned it to my husband, 'This would be a great storyline.'
And knowing that it touched Jason personally, I just reached out and said, 'What if we tried to do a storyline on Kristina?' And he emailed me right away and said, 'I got the chills,' because they had been working on that storyline already, which was kind of cool.
Bing: More on "Parenthood" | Monica Potter | Jason Katims
So I thought, 'You know, I'd didn't real know what it would entail.' But I'm glad. I mean, I was scared, but I've got a lot of friends that have gone through it. So I was on-board as soon as he said that they were doing it.
What kind of research went into approaching this plotline for you?
As far as doing research and going online, I did nothing. Only because I wanted to experience it as a person doing it for the first time and getting [that diagnosis] – because there's so many different aspects of it and there's so many stories that I can pull from. But having a fresh perspective on it and feeling those real feelings of being scared and hearing the news – while we were on set looking at the different Web sites, while Peter was walking in the room for the first time.
It actually came at a time, I had gone to get my mammogram, and this was in April and they said that, you know, that there was a blip or something on the screen, so I had to go back. And those real feeling came out in performance as well, because I have to go again this Thursday to check and see if it's gone. So it stuff that I'm sort of going through, but not really, you know, investigating too much because I don't want it to feel sale. I just want it to feel real for me and hopefully that will come through in the performance.
Plus: Geeking out on TV title sequences | TV women who need to be saved | 11 of TV's scariest series
I'm excited to see what happens. I don't know too much, which is good you know? It keeps us on our toes and, like [producer] Jason [Katims] said, 'It comes at you out of the blue,' and as an actress it's great because you do it week by week and you learn, you know, different types of treatments and different types of feelings and situations that the family goes through that Kristina's going through.
In the coming weeks, we get to see the Braverman clan react to the news. How does it come out?
I love the way that Jason wrote this episode, where it was staged and how it's so – it's done in a place that you wouldn't normally say, 'Do something,' or tell people news like that. It was just – bam! It was perfect, it was just great and so real.
How is this going to affect Kristina and Adam's relationship?
And I can't wait for those little moments between the two of them. Maybe I'm trying to plant a seed. Those moments when certain things happen and the cancer progresses or gets better or doesn't – you know, whatever the storyline is, just the moments between the two of them I love so much because it's sort of like, especially working with Peter [Krause], it's just ridiculous how much I feel like he's my husband. And he said the same thing. I don't know if that's a good thing, but it's kind of a cool thing to work with someone that you just finish each other's sentences and I really look forward to all of those moments with him.
The Asperger's storyline is another meaty one the show has tackled. What's it like working with Max Burkholder, who plays Kristina's son?
I love him like he's my own. He reminds me so much of my son, Liam. He's so weird in the best way, I just adore him. His mom Kelly and I, we've gotten to be really close in the past four years. And he's just so smart. He's intuitive, he's just, he's loving. I can't say enough, and was I afraid working with kids. We have the best group of kids on our show, down to the twins. And he's just the best kid in the world. I can't say enough good things about him.
And given Kristina's condition, will we see that relationship change?
[It will be] frustrating for her, yes. I mean, that's her job and she can't do it. The scene that we shot when Max was telling us about the speech, it was the same day that [she] had surgery, and you know, it was very funny. She has calendars for everything. She knows what's happening in her kids' lives, she's helpful. She wants to be there for them. And there's this huge thing that comes along she can't be there for so she just feels completely helpless, frustrated and upset. So I love that storyline. I love that he runs for [class] President. I think it is funny, but it's also very true, and it's something that the family deals with and it's involved a lot of other family members as well, as you'll see.
"Parenthood" airs Tuesdays at 10 p.m. ET/PT on NBC.