A Valentine's Day Gift From 'The Young and The Restless'
Daniel Goddard and Christel Khalil dish Cane and Lily's 'Y&R' wedding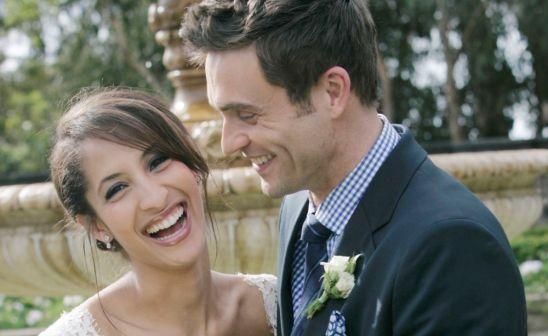 Cane and Lily have been to hell and back on "The Young and the Restless," but love prevails on Tuesday, Feb. 14. With Lily's cancer and all of Cane's secrets finally behind them, the couple says "I do," again. Daniel Goddard (Cane) and Christel Khalil (Lily) talk about the long road back to the altar, Cane and Lily's Valentine's Day wedding and what comes next.
Bing: More about 'The Young and the Restless'
MSN TV: It's been a long road for Cane and Lily. What can we expect from their second wedding?
Christel Khalil: Drama-free romance and happiness. The ceremony and reception are like a fairy tale.

Daniel Goddard: Most soap weddings, something goes wrong. Like in Cane and Lily's first wedding, before he left the chapel, he said, "Please forgive me for what I'm doing."
Khalil: This time, they wanted to let Lily and Cane's wedding to go off without a hitch, because people have been waiting for so long for this. 
Goddard: Roughly a year ago, Cane was shot -- or Caleb was. It's amazing what a ride it's been. The fans are going to love it. It's everything soap operas are meant to be. It's all about the romance, the glamor, the love and the passion, and you're seeing that in a very well-styled and well-written wedding.
Where does the wedding take place?
Khalil: It takes place in Provence, France. Kay sets it all up and pays for all of them -- Harmony, Devon, Neil, Sofia, Abby, Olivia and the babies -- to go on her private jet. They write their own vows and Lily has the white dress, but this is their second go around, so they're being relaxed about it. It's a different vibe. It's not a frou-frou, fancy deal. It's more mature and more French.
What was it like to go on location to shoot at Greystone Mansion in Beverly Hills?
Khalil: It was gorgeous. And of course, it was nice to get out of the studio for the day and to be able to shoot outside and have things be a little more natural. I loved it.
Cane and Lily have been through so much: Did you ever lose faith in them finding their way back to each other?
Khalil: Our coupling is so popular that I don't think they'll ever break us up. No matter what happens, they'll always get through it.
What is it about this couple that resonates with fans?
Goddard: It rings true in their hearts. Other couples on the show might have infidelities or say one thing and do another, but the fans understand that there's such a love between Cane and Lily that every time they face an obstacle, they want one to help the other through the obstacle. It goes back to the core of soap values, which is strong, romantic couples -- beautiful ingénues who sweep up the hearts of strong leading men. It's about creating a place where you can say, "I believe in romance."
Are these two really past all the drama?
Khalil: There will always be trouble! But the drama between Lily and Cane is played out. They've gone through everything they can possibly go through. When you have someone fake their own death, that's pretty crazy.
Goddard: Their drama has always been, "Cane's got a secret." I think his secrets have run their course.

Khalil: I'd love to see drama that allows us to interact with other characters on the show. It's been a bubble for Lily and Cane.

Christel, Daniel is known for being a cutup. Is it ever hard to keep a straight face with him?
Khalil: I think I make him laugh more. I get a little goofy.
Goddard: When I make her laugh, she just loses it. But she makes me laugh more, because she'll say things I never expect to come out of her mouth. Christel's very self-deprecating, which is one of her most endearing qualities. She'll say something that's completely out of left field and it's her response to what she's said that really makes me laugh. Her timing is impeccable, because she doesn't realize she's said it and then she'll go, "Oh wow, I just said that." I love working with her. I'm a lucky man. She makes my job so much easier. I love her.
Khalil: We always have a good time.
For the record, I don't believe there's a "The Young and the Restless" wedding with no big surprise.

Khalil: Well, there is a surprise guest that we don't know about…
Aha!
Goddard: It's something Jill sees that they're not aware of. The great thing is that it's an external force at the wedding that will lead to conflict and drama, outside of Cane and Lily, which to me is the essence of great soap opera. You can be with each other and weather the storms together, because that's what a good marriage is. When Cane gets back, Jill comes to him with a proposal he can't say no to and Lily says to Cane, "Look baby, you know you want to do this." You're already seeing the team effect.
"The Young and the Restless" airs weekdays on CBS.
Photo credit: Sean Smith/JPI