Report: 'Downton Abbey' Won't Lose Maggie Smith
Dowager Countess staying put after all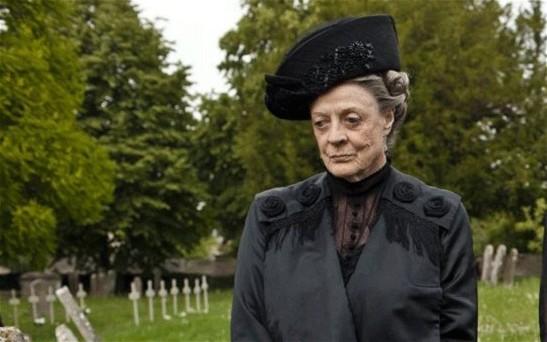 Maggie Smith is not moving upton. An unnamed representative for "Downton Abbey" says the actress has no immediate plans to stop portraying the show's popular Dowager Countess.
Bing: More about 'Downton Abbey'
A recent report in the U.K.'s Daily Mail announced that Smith, 77, asked to be killed off after the currently shooting third season, reportedly so she could return  to her stage and movie career.
Also: What shows will be returning next season?
However, the rep told the L.A. Times that there was "no truth" to that report.


Still, mystery remains. Executive producer Rebecca Eaton did tell the Orlando Sentinel that somebody, "pretty key in the cast," is going to die this upcoming season, which adds  Shirley MacLaine as the mother of Elizabeth McGovern's Cora.


Season 3 of "Downton Abbey" returns to the U.S. in January 2013 on PBS.  
I am so glad to hear that Maggie Smith won't be leaving the show.  She is of course the Grand Dame of the show.  It will be a welcomed addition too to have Shirley MacLaine, because I think Maggie's character with the attitude about Americans, the Shirley MacLaine acting sort of like Molly Brown, might be an interesting combo.  It most likely will either be Thomas that will be deleted from the show or Carson.  Thomas did say that he spent more than what he had on those black market supplies.  Maybe some loan sharks come after him?  Carson's health has taken a few hits and it looks like it is leading up to a heart condition.  And, Mary just loves Carson like a second dad.  It will be interesting if Mrs. Crawley (Matthew's mother) and Dowager Countess of Grantham will be ganging up on Cora's mother.  Can't wait!!!!

Hooray! I'm so glad 'Downton Abbey' won't lose Maggie Smith! She is the 'spice' of the show! It would be boring without her! She's also the 'star' of the show and I always love the scenes that she's in. Please see that she stays until the very end of 'Downton Abbey' to keep the show 'alive' and interesting too! We love Maggie Smith! She deserves all the accolades she receives as she is 'simply the best'! Thanks for the good news that she's still on the show as it wouldn't be the same without her.
In all likelihood, it will, unfortunately, probably be Lord Grantham who passes away in the third season. The Lord upon whom Grantham is based died in 1923, shortly after discovering King Tut's tomb with Howard Carter. They may develop an interesting plot device wherein Lord Grantham goes traveling and dies from an illness, or they may use some other dubious method. Either way, the fact that Matthew and Mary will inherit the estate is inevitable, even imminent, depending on how the writers decide to develop the story.

Are you sure you want to delete this comment?