Hollywood Tweets Goodbye to Regis Philbin
The daytime icon ends his run as king of the morning circuit
After 28 years of good mornings on television, Regis Philbin said his final goodbye to daytime TV and "Live! With Regis and Kelly" Friday morning. Katie Couric, Donald Trump, Kathie Lee Gifford, Tony Danza, Alan Alda, Meredith Viera, Bryant Gumbel, Diane Sawyer, Joan Lunden and John McCain packed the house for the 80-year-old's last day, which saw co-host Kelly Rippa fighting tears. Everyone who couldn't make it to the momentous occasion took to Twitter, and with celebs, politicians, personalities and everyday fans tweeting their love, the old-fashioned guy is even trending this morning.
As you can see (below), Reege also took to Twitter to say thank you to everyone who was thanking him!
Bing:
More about Regis Philbin
This Monday, Jerry Seinfeld will take over for Philbin and join Kelly Rippa as co-host, with Neil Patrick Harris covering the following week. "Live! With Kelly" will take its time finding Philbin's permanent replacement.
Here's what celebs have been tweeting today: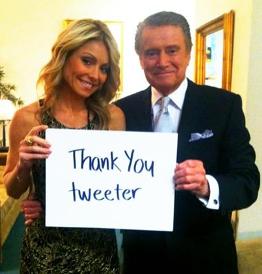 Co-host Kelly Rippa
:  :-( Thank you to everyone for your heartfelt support! We all feel the love. Best tweeps on earth.
Ellen DeGeneres
: Today ends an era in television. It's Regis' last day. Love ya Reege. #RegisFarewell
Neil Patrick Harris
: Congratulation on an extraordinary run, Regis. You're an inspiration, and a class act. You and @KellyRipa were great together. Thank you.
Jimmy Kimmel
; It seems unlikely that anyone will ever top Regis
Lara Spencer for "Good Morning America"
: The @GMA team wants to thank #Regis for making us smile all these yrs. Wonderful tribute @KellyRipa
Mario Lopez
: Congrats Regis on an amazing run! You are one of my favorite hosts of all time!! Simply the best... Honor to know you. Love you Reege
Wendy Williams
: Congrats Regis! You are loved!
Rachael Ray
: Mornings will never be the same. There's only one REGIS!
Sherri Shepherd
: So blessed to have worked w Regis Philbin. He guest starred on 2 of my sitcoms "Less Than Perfect" & "Sherri" worked w him on Millionaire
Piers Morgan
: Congratulations #Regis - great man, great star, great career. Loved working with him on "America's Got Talent."
Gayle King:
Watched regis final show nicely done! Loved the montage of regis and family memories @kellyrippa tribute perfection. Go regis!


Joan_Rivers
: can't bear the thought of this coming Monday morning without Regis on @Regis_and_Kelly. I cant wait to see what he does next!"
Conan O'Brien
: Once Regis retires, I'll have no more competition for weirdest first name on the air.
John McCain: So long Regis - thanks for the memories!
Howie Mandel
: The end of an era. Television will never be the same. I'll miss you Regis.
Carrie Ann Inaba:
Let's celebrate REGIS!!! It's his last day on the @Regis_and_Kelly SHow.. We'll miss you! It was an honor co-hosting with you.. xox


David Boreanaz:
Thank you Regis. Mornings will Never be the same. #Classact


Susan Lucci
: Farewell to Regis…. @Regis_and_Kelly #love you Regis! (more on
her blog
)
Kimberly McCullough
: Anyone else crying watching Regis say goodbye?
JoAnna Garcia
: Still trying to pull it together for my morning mtgs after watching theRegis Farewell Celebration. Ohhhh Reeeeeg...we r gonna miss u!
Julie Benz
: Can't believe its Regis Philbin's last day….. thank you for filling our mornings with laughter!!
Alyssa Milano
: Dear Regis Philbin, Thank u for always supporting me & my career throughout the years. I can't wait to see what comes next for you. ♡ Alyssa
Ralph Macchio
: Never forget- My 1st ever on-air, one-on-one interview - AM Los Angeles - 1980 with REGIS PHILBIN.
Kevin Nealon
: Still looking for tickets to Regis' final show. Also looking for airline tickets to get there. Please hurry! It's already started!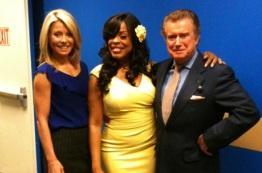 Niecy Nash
: Farewell Regis!!! Enjoy ur retirement:) you will be missed!
Jill Zarin
: Watching #regisandkelly last show. Crying. Why?? We r all getting old that's why
Melissa Gorga
: Omg, tears are running down my face for Regis! We love you!! Xo