Bonnie Franklin Talks 'Young and the Restless' Gig
'One Day at a Time' star coming to daytime as Victor Newman's savior
Victor Newman went MIA on "The Young and the Restless," again, leaving the family battling for control of Newman Enterprises. With Sharon claiming his power, Victor finally returned to the canvas Thursday, Aug. 16. But something is most certainly off. The millionaire is brawling with goons at some divey bar, instead of brawling with his family. Luckily, help is on the way in the form of streetwise Sister Celeste (Bonnie Franklin), who shows up Wednesday, Aug. 22. MSN TV talked to "One Day at a Time" star Bonnie Franklin about her new character and life at "The Young and the Restless."
Bing: More about "The Young and the Restless" | Bonnie Franklin
"I play a modern day nun, so no wimple or rosaries, who works in a waterfront area," Franklin previewed. "She's not as irreverent as Ann Romano [from 'One Day at a Time'], obviously, but she's a strong lady who knows what she wants to do. She works at a mission, helping the homeless and people who are in trouble, helping them pull it together so they can move forward. I find this man who is trouble and I try to help, but I don't trust this woman that I meet."
Plus: Seriously funny actors | New, must-see fall shows | New fall shows to avoid
That man would be Victor (Eric Braeden), while the woman is scheming Genevieve (Genie Francis), which spells trouble. But none of that means anything to Sister Celeste.


"Victor Newman is just a guy who seems to be in need of help," Franklin said. "This show has been on almost 40 years, so I know there's back-story for all of these people. I'm coming into this as a totally new, fresh character, so I'm not even involved, quite honestly, with what's going on with Victor. I just greet them as my character meets them. I have no idea who this Genevieve person or Victor is."
That's convenient, since Franklin doesn't know much about the show's history, though she was familiar with the soap.
"I know Eric Braeden and Genie Francis, but I don't know the intricate plots," she revealed. "I have to admit I've never watched 'Young and the Restless.' I got a phone call and they said, 'Do you want to do 'Young and the Restless'? I'm not living in another century or universe, so I said, 'OK' and here I am."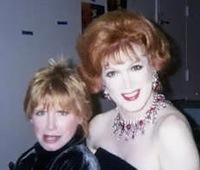 Friends who are more familiar with the show have been coming out of the woodwork since news of her gig broke. 
"I have had a lot of people calling me about it," Franklin said. "Many have said how pleased they are that I'm doing this. Friends are saying, 'I've been playing in drag for a lot of years. Can I come on and we can be tap-dancing nuns?'"
While this marks Franklin's first foray into the soap world, she's aware there's no room for tap dancing nuns. She's also embraced the infamously fast pace of shooting.

"I was warned beforehand, but I love it!" she raved. "First of all, the people I'm working with, so far, are Eric Braeden and Genie Francis, and who could be better to work with? They've been around for a gazillion years and know exactly what they're doing. [The show] is a well-oiled machine. I also don't find the speed of it so unusual and I think one of the reasons is I've had a theater company [Classical and Contemporary American Plays] for 12 years."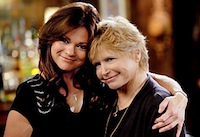 Franklin, who recently reunited with her onscreen daughter Valerie Bertinelli for an episode of "Hot in Cleveland," has been enjoying her first daytime gig so much she'd even consider extending her tenure, which was set at ten episodes when MSN TV caught up with her. 

"I'm in a mood in my life where I'm saying 'Yes' to a lot of things and I've been having a very good time," Franklin said. "I can't imagine this character going on for a long time, but who knows? Maybe I'll be reincarnated into something else. The simple answer is, 'Sure.'"


"The Young and the Restless" airs weekdays on CBS.