First Gay Kiss on 'Days of Our Lives'
It's a new day in Salem as Will pulls in Neil
The coming out of Will Horton (Chandler Massey) on "Days of Our Lives" has been the talk of daytime for well over a year. As you can see in the Feb. 23 clip above, it's finally heating up. Will is certainly not the first gay character in daytime, let alone "Days of our Lives," but he did get to plant the first gay Salem kiss caught on camera. Of course, just because he kissed a guy doesn't mean he's actually out, yet.

Bing: Watch more clips and full episodes of "Days of our Lives"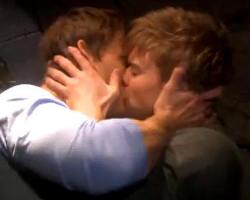 For months, Will has been reeling under the weight of the secret that his mom Sami (Alison Sweeney) cheated on his step-dad Rafe (Galen Gering) with her baby daddy EJ (James Scott). Will has kept a tight lid on the indiscretion, but that cat is out of the bag. When Will went out to party and let off some steam on Feb. 23, Rafe overheard him venting about Sami and EJ.

With that story is set to blow wide, a drunk Will finally had his first kiss – and it was one passionate first! Will even made the first move, grabbing the other guy, Neil, and pulling him in, but that doesn't mean he's quite ready to come out yet.

On Friday Feb. 24, the kiss continues to heat up until gay pal Sonny catches them. Will may go into denial and then try to work out his feelings with Grandma Marlena (Deidre Hall), but surprise, surprise, Sami's drama will interfere before he gets anywhere.

On Friday, Mar. 2, his father Lucas (Bryan Dattilo) returns to the canvas and it sounds like he'll be open to his son's sexual preference. The question is, how soon will he learn about it?

"Days of our Lives" airs weekdays on NBC.